Mayfair Clarifies Settlers of Catan 4th Ed. Compatibility Issues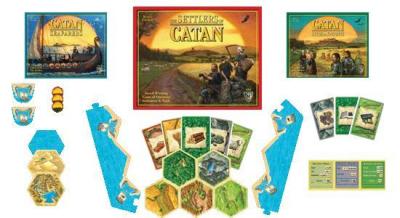 Mayfair Games, the publishers behind the deservingly oh-so-popular Settlers of Catan [Amazon, Funagain] line of Eurogames, has posted a Frequently Asked Question page. Currently the FAQ hosts only one interesting question/answer topic: the compatibility of the 4th Edition of Settlers of Catan, the 4th edition expansions, and their 3rd Edition counterparts.
Unless you're an early board game adopter who's way ahead of the curve then chances are you have the the 3rd Edition of Settlers, or the new 4th Edition released just before Christmas. Here's what Mayfair has said about using 3rd Edition expansions with your 4th Edition base set, or 4th Edition Expansions with your 3rd Edition base set:
Q: Can I use my 3rd edition pieces with the 4th edition sets?

A: As has been stated, the tiles are the same size between the two editions, so anything designed to work with 3rd edition tiles should continue to work with 4th edition sets. However, because the new set comes with a frame for the new board (replacing the water tiles), you will be unable to play Catan: Seafarers using 4th Edition base and 3rd Edition Seafarers (4th edition Seafarers includes only the water tiles necessary to add with the frame pieces included).

The resource cards have the same backs as 3rd Edition, but the development cards have changed backs. This means that you cannot mix the cards from 3rd Edition 5-6 Player Extensions and 4th Edition base sets (and vice versa).
Read More in: Board Games | Gaming News
Share this Article with others:
Related Articles:
Came straight to this page? Visit Critical Gamers for all the latest news.
Posted by Critical Gamers Staff at January 7, 2008 1:19 PM