Now Shipping "Marvel Heroes"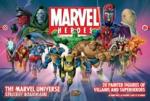 For good or bad we've seen a resurgence of Super Heroes in American media over the last few years, including movies, lunch boxes, that great "Heroes" television series, etc. There have been some properties we wished weren't resurrected, but for most part there have been some really strong evolutions of traditional series. The X-Men movies probably began the new movement (starting strong but eventually turning into a over-production stage show near the end), while the Spiderman series and new Superman movies will keep it very much alive and kicking.
But the reemergence of morally strong men in tights hasn't been limited to the big screen. Lately we've even been taking breaks from board gaming by spending time at lunch with the Xbox, playing the new release Marvel Ultimate Alliance [Xbox,360,PS2]. That game is chalk full of super hero doom-bot kicking goodness, and it - more than anything - has made us hungry for even more high-quality super hero media.
And now Fantasy Flight Games adds a giant brick of fuel to the fire. The design team behind the incredible War of the Ring franchise has released their next epic Big Box Game title: Marvel Heroes [Amazon,Funagain].
In this latest epic title, each player controls a super hero team, and must investigate various "Headlines" scattered across a dynamic instance of New York City. Through their investigation the heroes will save citizens from falling elevators, fight low-level crime, unveil and uncover super villain plots, and defeat the villains in fisticuff combat.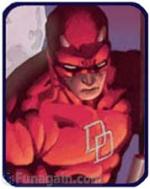 Players also control an archeneny super villain which is paired against another player's super hero team. In this way the player's involvement in the game continues even beyond his standard turn. We're a big fan of this game dynamic - because these massive games can become quite the snoozer when you finish your move and it's not going to be your for another 10 minutes or so.
Check out the game's official website to learn more about the title, including the game's rulebook [pdf] Here's the game's official synopsis:
In MARVEL HEROES, 2-4 players each take on the role of a popular super-team straight from the pages of Marvel comics, including such well-known heroes as Spider-Man, Wolverine, Captain America, and the Fantastic Four. Simultaneously, they take the role of an evil Mastermind, whether it's the Kingpin of Crime, Dr. Doom, the Red Skull, or the mutant terrorist Magneto. They will fight crime and progress their story as super heroes, and work to complete their villainous plans as Masterminds, all competing to be the most successful at both tasks.

The action unfolds in New York City, on an impressively detailed and accurate map depicting Manhattan Island as well as Brooklyn and Queens. Players will respond to dangerous and criminal events, represented by Headlines, that crop up across the city, sending members of their super hero team to rescue citizens, fight crime, and battle super villains. Meanwhile, the dastardly Masterminds work to their own purposes - and especially to defeat their Nemesis super-team!
Marvel Heroes is now available to order from Funagain Games and Amazon.com.
Read More in: Board Games | Gaming News
Share this Article with others:
Related Articles:
Came straight to this page? Visit Critical Gamers for all the latest news.
Posted by Critical Gamers Staff at December 11, 2006 3:00 PM