"Marvel Heroes" Official Website Launches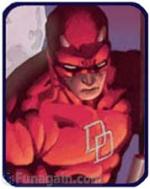 Fantasy Flight Games has launched the official product website for the upcoming board game Marvel Heroes. The website has an extensive About page that does a great job of detailing the game from top to bottom. There is also a Marvel Heroes forum, which is realatively empty at this point ( it has the obligatory "First Post!"), but we're sure it'll become alive with strategies and variants as soon as the game ships.
Marvel Heroes looks to be a fast, but yet relatively complex game. Because it comes from the same design team responsible for the complicated (yet extremely entertaining) War of the Ring, we would have a hard time recommending this title to kids. However, young adults and Marvel comic book readers should definitely check this game out.
Most of the Marvel Heroes information released up until this point has come in the form of design articles by board game designer Roberto Di Meglio. If the new product page website suits your fancy then you should definitely give Di Meglio's articles a once-over.
Marvel Heroes is set to ship in November. It's currently available for preorder from Funagain Games.

Read More in: Board Games | Gaming News
Share this Article with others:
Related Articles:
Came straight to this page? Visit Critical Gamers for all the latest news.
Posted by Critical Gamers Staff at September 20, 2006 11:01 AM