"Lost The Game" is Back in Stock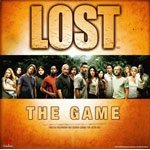 A few weeks ago we mentioned that the TV Show Lost had received a board game adaptation. Usually we're skeptical of TV / board game cross overs, but apparently "Lost the Game" [Amazon, Target] has gotten some good press. At that time it was really difficult to get a your hands on a copy of the title, but it seems that more trucks rolled out of the warehouses and dropped their Lost cargo in stores. You can find it at both Target and Amazon, both having it in stock.
Our copy has just arrived, and before we throw it down on the table we wanted to let you know that we found some user-submitted rules that configure the game the run with only Season 1 content. If you're catching up on Lost then you're probably still making your way through the Lost Season 2 DVD that just came out. These rules will strip all of the Season 2 content form the game, making it relatively spoiler free. We're not sure if the altered game is well-balanced, however, so use at your own risk!
Read More in: Board Games | Gaming News
Share this Article with others:
Related Articles:
Came straight to this page? Visit Critical Gamers for all the latest news.
Posted by Critical Gamers Staff at September 18, 2006 10:20 AM