Le Havre wins International Gamer Award for 2009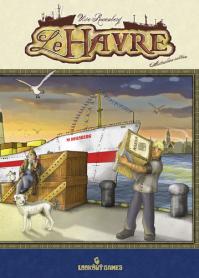 While we can't say that we were shocked that Le Havre [Funagain] got some accolades for the International Gamer Awards, first surpassing Battlestar Galactica for the best Multiplayer Game, we were a bit shocked that Le Havre beat out our recent favorite Dominion, too! So here's some respect to Le Havre and Lookout Games who have established themselves as a prime time gaming publisher.
Le Havre is set its namesake, the second largest port city of France, and centers around resource management and the manufacture and sale of goods. With that in mind, here's why the International Gamer Awards gave it the nod for 2009:
---

"In the Multi-Player category, the award goes to Le Havre, the creation of German designer Uwe Rosenberg and published by Lookout Games and Ystari Games. Set in the enchanting French port of Le Havre, the game challenges players to properly manage their harbor by securing goods, converting these into resources, purchasing buildings, and shipping goods to other ports for handsome profits. Le Havre is quite challenging, and the abundance of choices gives players wide latitude in pursuing their strategies. The game has earned the IGA in the General Strategy, Multi-Player category, and marks the second IGA for designer Rosenberg and Lookout Games, who captured the award last year with Agricola."

---
For more information about Le Havre, please see our previous coverage: Le Havre Board Game - A Destined Classic. And for more information about how Le Havre was selected, or details on the runners up for 2009, check out the official story Recipients Announced for 2009 International Gamers Awards - General Strategy Category.
Read More in: Board Games | Gaming News
Share this Article with others:
Related Articles:
Came straight to this page? Visit Critical Gamers for all the latest news.
Posted by Critical Gamers Staff at October 5, 2009 5:20 PM