Last Night On Earth:The Zombie Game
Last Night on Earth
[
Amazon
,
Funagain
] Zombies scare the living crap out of us to the point of fascination. There's obliviously something scary about being eaten to death by a dead man - anyone who says otherwise is walking bravado - but then also to become one of the shuffling masses of brain eaters by simply being bitten once by them is terrifying kicked up to the level of absurd. Anyone who's played rugby or fought back a sea of aggressive children after ice cream night know just how easily it is to be bitten in hand to hand combat. And that's all it takes.
For a long time we've had a very rough time of trying to let our Zombie fascination bleed into our gaming lives. There have been a few games out there including the somewhat entertaining Zombies!!! series, but even that can be somewhat dry for fans who aren't quite as die hard for the genre as we are.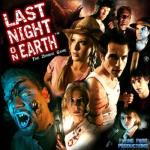 But now publisher Flying Frog is aiming to change all of that with Last Night on Earth. This zombie romp has some of the highest production values we've seen in the zombie game they've hired actors to fulfill roles of the characters that you can play and they appear everywhere in the games content, and the game ships with an ambient zombie sound track to set the mood. The game itself includes high quality plastic bits, glossy cards printed in full color, and a scenario book and a componentized board layout scheme to keep things fresh on repeat plays.
The general main goal: stay alive throughout the night and kill as many zombies as possible by sunrise. One player pulls the strings on the zombie horde while everyone else loots weapons and searches for material to keep themselves alive and to hack down the undead. The game strikes a nice balance of intensity – players have to slow down and burn time in order to scavenge for useful bits throughout the town. Meanwhile the zombie player is rolling dice – if they roll a number greater than the number of zombies in play, then they roll again to add that many more new zombies. Things can get harry fast, and just when you thought your character could catch a breath another wave is knocking on your barricade.
The best part about all of this: Halloween is only a month away. Sweet Zombie Crap.
Read More in: Board Games | Gaming News
Share this Article with others:
Related Articles:
Came straight to this page? Visit Critical Gamers for all the latest news.
Posted by Critical Gamers Staff at September 26, 2007 3:52 PM