Last Minute Gaming Gift Ideas at Amazon - It's Zero Hour Ladies and Gentlemen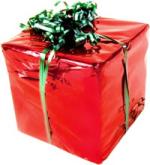 These next two days mark the last full-weekend of Holiday Shopping for the 2006 Christmas Season. Of course you could count next weekend - which shares a day with Christmas Eve - but only high-anxiety holiday power shoppers hit the mall with all the crazies on that day.
For you sane folks: here are some last minute sales and gift ideas and that should help you tie up any loose ends. And be sure to check out the comprehensive Critical Gamers Holiday Gift Guide for a more in depth look at our gaming recommendations.
Happy Holidays Everybody!
Read More in: Board Games | Cheap Deals & Sales | Collectable Card Games
Share this Article with others:
Related Articles:
Came straight to this page? Visit Critical Gamers for all the latest news.
Posted by Critical Gamers Staff at December 15, 2006 3:27 PM