Horus Heresy Wargame Hits Shelves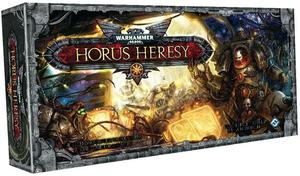 The latest and greatest epic war board game from Fantasy Flight Games has hits shelves, and score! it's set in one of the most rich sci-fi gaming settings of all time. Horus Heresy [Amazon, Funagain] is set during an epic show down in the Warhammer 40k history, and involves massive firefights, explosions, and tide-turning acts of betrayal.
Aside from a solid war game this title has a quite a few interesting mechanics in it. Like, for instance, after each scenario setup, the game goes through a traitor mechanic. Here, the superior forces sitting all high and safe in their the superior fortifications might find that some of their comrades are suddenly in control of the opposing faction. Awkward. There's also some interesting initiative mechanics that you'll have to consider that playing an amazing card might force you to sit on the bench for a few turns. It had better be worth it.
We haven't gotten our mitts on this game ourselves, but it looks awesome. For more information checkout our previous coverage Horus Heresy Redux Coming Your Way Shorlty from FFG. Also checkout the game's components in this nice Horus Heresy unboxing video, and - of course - the game's official website.
Here's the official line:
---

"In the greatest betrayal the universe has ever known, the Warmaster Horus - once humanity's greatest general, now corrupted by Chaos - has turned against the Emperor and hurled the Imperium of Man into ferocious civil war. The galactic conflict has risen to its climax. The Warmaster's ruinous legions have assaulted Holy Terra itself, the Emperor's seat. Here the fate of humanity hangs in the balance during the greatest military campaign ever seen.

In the Horus Heresy board game, this legendary battle unfolds across the razed plains of Terra and in the frozen orbit above. Deadly fighting ranges from the Emperor's golden Inner Palace to Horus's flagship, the Vengeful Spirit. Taking the side of either traitor or loyalist, two players control either fearless Space Marine legions or deviant Chaos Space Marines, mighty Titans, Imperial Armies both loyal and traitorous, and a fearsome array of other units, including the Emperor and Horus themselves.

An innovative order and initiative system forces each side to carefully consider the commands they issue to their troops. A dramatic, card driven combat system incorporates escalating damage, gives players the opportunity to allocate resources between attack and defense, and brings to bear the unique special powers of each unit type, from fortification-destroying Titans to the perverse daemons of Chaos. Brother fights brother, and the universe hangs in the balance!

Horus Heresy includes over 120 detailed miniature models including 10 plastic terrain pieces, and more than 200 cards to bring this sweeping conflict to life on a stunning map of the war-torn Terra."

---
Read More in: Board Games | Gaming News
Share this Article with others:
Related Articles:
Came straight to this page? Visit Critical Gamers for all the latest news.
Posted by Critical Gamers Staff at April 19, 2010 4:50 PM