Horus Board Game Coming Soon from Mayfair Games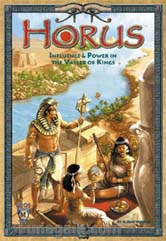 The publisher Mayfair Games has had some hits on their hands recently. As we've noted The Pillars of the Earth was one of our favorite titles from last year, and the recently released Settlers of Catan 4th Edition seems to have been pretty well-executed reemergence, too. And now the most recent Lascaux card game was applauded by one of the gaming industry's most noteworthy critics.
Soon Mayfair plans to release Horus, another casual (read interesting and family friendly) game set in ancient Egypt. Details so far are light:
Can you seize your destiny and reign supreme over the land of Egypt? Discover your inner Pharaoh with Horus™, designed by H. Jean Vanaise and coming soon from Mayfair Games.

Horus uses a unique combination of tile and card play to create a delightfully casual yet engaging game with surprising strategic and tactical depth. Beautifully designed tiles feature ancient hieroglyphics, and the playing pieces evoke the deities of this fascinating culture. Horus is easy to learn and play, but is full of intrigue and player interaction. Ever changing, always different, you will find mastery of the Nile delightfully elusive.

Be on the lookout for Horus to hit stores soon in March.
Yes - Mayfair says March, but the latest from Funagain Games places this new board game release somewhere in the April timeframe. We'll keep you posted as more details emerge.

Read More in: Board Games | Gaming News
Share this Article with others:
Related Articles:
Came straight to this page? Visit Critical Gamers for all the latest news.
Posted by Critical Gamers Staff at March 7, 2008 4:00 PM