Hands on Havoc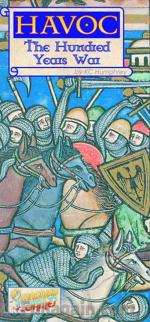 We haven't played enough Havoc: The Hundred Years War to write a full-on review, but we just finished up a session and we thought that we'd share some nuggets of thoughtfully goodness with you.
Invariably a critic's first reaction to Havoc is to classify the game as a Poker variant. This generalization shouldn't scare Families away, however. Havoc includes absolutely no betting, there aren't any chips, there's no stake in losing what you've already won. Greed is not a part of the game -- Folks with morals still 'need apply'.
The game has been skinned with a fairly heavy theme of the Hundred Years War. Historically this conflict was more a series of battles than an all-out rampage, and so each round of the game focuses on a particular battle that took place during that that war. The battles are represented by cards that list a variable number of victory points for those who place first, second and third. The rest can go walk. There are 8 battles in all, and so 8 hands of Havoc make a full game.
Each player starts with a hand of cards drawn from a shuffled deck. The cards have numbers and suits like a set of Hoyle, but because the game can involve 7 players and last 8 rounds, there are more suits than a regular deck of cards. In fact, the the card numbers climb well into the upper teens. There isn't a limit to the number of cards a player can have in his or her hand.
The game begins in the deck-construction phase, where each player has an option to spend their turn drawing two cards, or - if their content on the cards they have - they can chose to "Cry Havoc!" and set the next battle into motion. The player who 'Havoced!' must select two cards from their hand and place them onto the table face-up. Then, each player in turn has a moment to judge the strength of their opponent(s) (based on the 2 face-up cards). If a player chooses to join the battle then they, too, must take 2 cards from their hand and place them face-up on the table. The battle officially beings once everyone has either decided to field a force or sit back, relax, and let the other meatheads slug it out.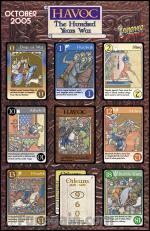 Participating players then take turns placing more and more cards onto the table (face-down) to fill out their 'army'. Players may place up to, and including, 6 cards from their hand. Then everyone flips their cards in unison, and the hands are evaluated with near-poker rules (because there are more suits and more numbers, there can be some crazy unpokeresque card combinations). To the victor goes the largest number of victory points, with second and third place often (but not always) winning a consolation prize.
Here's where the game gets interesting. There are a few battles that have a boat-load of victory points, following which the "vultures" who sat-out the last battle can immediately (or soon after) "Cry Havoc!" again to swoop in and win the smaller scrappier battles. The idea is to strike while the opposition is weak.
Havoc starts to shine as a meta-game emerges above the already zany rounds of poker. Apt players must chose when to field troops, to what strength, and learn to weigh the potential spoils against the potential costs. The cost includes the potential loss of a good hand without winning the round (of course), but also the chance that they might remain weak through the next few rounds, as well.
We're definitely looking forward to more rounds of Havoc to see how new strategies emerge. Yep, it's one of those titles which evolves through group dynamics, and seriously - how can you help but love those kinds of games. Expect a full-review once we've played a few more rounds.
Havoc: The Hundred Years War is available exclusively from the FunagainGames.com online game store.

Read More in: Board Games | Card Games
Share this Article with others:
Related Articles:
Came straight to this page? Visit Critical Gamers for all the latest news.
Posted by Critical Gamers Staff at April 21, 2006 10:16 AM