Hasbro's Holiday 2007 Board Game Sale at Amazon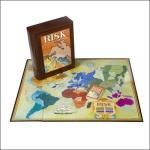 Amazon.com is running an exclusive Holiday 2008 Sale on all of the Hasbro line of bookcase styled board game titles. Their list includes all the old school classics from Monopoly, to Scrabble, to Yahtzee, and everything in between.
Those of you looking to replace your family heirloom of busted cardboard boxed games will find these sturdy replacements in these wooden box varieties. And though we don't have a bookcase full of classic literature to slide these games into, the leather-bound styling still seems somewhat classier than the blinding glitz of the overproduce box covers shipping with the standard titles today.
It's crazy that we're in the holidays already, but we suppose it's true – Christmas is just inside of two months away. And considering how compact these titles store away on a bookshelf, how cheap they are, and they should keep for quite a while, these titles should make great gifts for budding families whose parents wouldn't mind revisiting the gaming lessons gleaned from the tried and true board game classics of their youth.
The exclusive sale includes the following Hasbro titles:

Read More in: Board Games | Cheap Deals & Sales | Gaming News
Share this Article with others:
Related Articles:
Came straight to this page? Visit Critical Gamers for all the latest news.
Posted by Critical Gamers Staff at October 26, 2007 12:16 PM