A Fantastic "Tide of Iron" User Review on BGG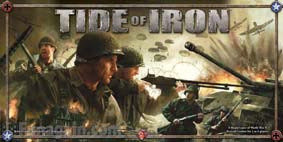 Tide of Iron [Funagain] - the WWII big box war game from Fantasy Flight Games - is slated for release any time now. In fact, a lucky consumer from down under got his hands on a copy yesterday and put the game's first scenario through it's paces with a few friends.
The resulting review is fantastic - it reads like WWII battle screenplay. Suppressing fire, motor teams, machine gun nests, elite troops and a rumblin' infantry killin' Panzer IV beast of tank blowing the crap out of battlefield already filled with craters, chaos and mayhem. After reading this article the World War II buffs at the Critical Gamers offices are walking around with a grin larger than the Magniot Line. We can't wait to get our hands on it and put it through our own crucible of criticism.
But everything about Tide of Iron isn't a glossy finish that smells like purty roses. It seems that the potential strength in the game's dynamic components - a built in mechanic that allows players to create their own infantry squads by sliding individual units into bases of four - might have bitten off more than it could chew. The pieces themselves seem too fragile to repeatedly snap into the base, and them pull them out again, so there are some definite concerns about the longevity of the game. This seems especially relative and disconcerting given that Tide of Iron is supposed to ship with an online scenario editor. New user content doesn't add to re playability if all your troops are all missing their legs.
Still, we can help but feel very enthusiastic about this one. We'll keep you posted on when the game official ships in the states. Should be any day now.
Read More in: Board Games | Gaming News
Share this Article with others:
Related Articles:
Came straight to this page? Visit Critical Gamers for all the latest news.
Posted by Critical Gamers Staff at May 17, 2007 3:40 PM