Galaxy Trucker - Hauling A' Your Way October 2007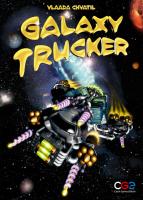 Dennis Hopper not included
Despite its clumsy name "Galaxy Trucker" looks to be a very entertaining release for the fall. In a near-perfect gaming sessions of 60 minutes GT attempts to straddle the large broad line that separates the light gaming audience from the strategy gaming audience - it's got the Reese's feeling of "you spilled fun into my strategy game" and "you got strategy in my light entertainment". Prerelease sessions paint a pretty picture - and a very successful game - that might be a 2007 award winner. Nice.
Here's the elevator pitch: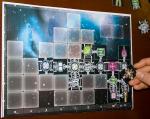 1-4 Players begin pulling colorful starship component tiles from a pile, and quickly design their own spaceship. The first person finished flips a sand timer - which makes the last homestretch for everyone else a frantic tile toss instead of another boring installment of analysis paralysis. The main underlying goal is to make deliveries of goods to the outer stretches of space each round, but then a narrative is developed with event / adventure cards which are drawn as sidetrack treks with which to earn more money.
Depending on which tiles you've drawn and placed on your board, the resulting ship could have different strengths and weakness. A ship with a larger crew quarters will be able to take on a mission where they capture an derelict spacecraft and pilot it home. Ships with gigundo lasers will have a better shot at tackling missions against Ice Pirates.
There are multiple rounds, with the later rounds giving you the ability to design bigger, meaner ships. The person who's earned the most money at the end of Round Three wins the game.
The folks over at BoardGame News have posted a nice preview of the game based on a prerelease copy. And to compliment that somewhat shining review, BoardGameGeek currently has the game rated at an incredible 9.1, though admittedly Galaxy Trucker is flying under the radar with only 4 reviews which doesn't present a solid foundation of preview hype.
We'll keep you posted on Galaxy Trucker, and let you know if it'll be worth your time as we get closer to release in October '07.

Read More in: Board Games | Gaming News
Share this Article with others:
Related Articles:
Came straight to this page? Visit Critical Gamers for all the latest news.
Posted by Critical Gamers Staff at September 19, 2007 3:22 PM