"Galactic Destiny" Announced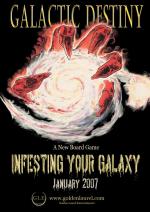 Sometimes good things arrive unexpectedly from out of the void.
We were recently contacted by Golden Laurel Entertainment about their first game to hit the presses in January, "Galactic Destiny". As we poked around their website we found that their 'Destiny could be a title that we've been thirsting-over for years. In fact, many of the elements in Galactic Destiny have been shot around our very own game table over a few beers after game night.
At its core Galactic Destiny is a space strategy game with both political and military themes. The game has a variable board augmented by a deck of sector cards, each detailing the planets, special abilities, and flavor text of the sector. Then there are the in-game personalities of the Senator cards which act as the player's hands in the game world. Event cards are flipped over three at a time, keeping each turn unique and dynamic as their effects wax and wane the players' abilities throughout the game. And each player's hand of Action cards can provide them that extra bit of oomph just when they need it most.
Perhaps the most intriguing thing about Galactic Destiny is the game's Senate phase. While players are fighting military campaigns for sectors of space, they're also pushing and shoving their political hands into various cookie jars within the galactic Senate. Every turn includes a phase when players convene to propose and vote on new polices (crafted from the top of their head) that affect the game across the board. In this way, a diplomactic strategy could be just as important as the game's motions of military conquest.
Speaking of military conquest, feuding players will sometimes have to trust each other and work together to push back an alien infestation of the Ke'Ras - a demonic race enslaving sectors of space, spreading from one zone to the next. Yum.
We're going to keep our eyes on this one as the title gets closer to shipping (in January, after the holidays ). Until then, ogle the website, mull over the game's rulebook, and check out Galactic Destiny's official press release:
GALACTIC DESTINY The Next Generation in Strategy Board Games

Politics. Manipulation. War. These three words describe the extra-planetary setting of the flagship product from Golden Laurel Entertainment. GALACTIC DESTINY sets a new standard for theme content, space ship strategies and adds a role-playing element to players' interactions. GALACTIC DESTINY is a board game and more!

According to game designer and New York Times Best-Selling author, Lisa Smedmen, "it is like the best game of RISK I ever played with the bonus of political intrigue and in-game karmic consequences for nasty behaviour." Many new game mechanics make Galactic Destiny equipped to give players a fuller board game experience; so that people who have enjoyed strategy board games already on the market will love the setting and system rules of this new game.

Produced by Golden Laurel Entertainment, GALACTIC DESTINY features full-colour card game style artwork by Marcel Chenier. GALACTIC DESTINY is the first of three board games to be released by GLE this year. With Skull & Bones: Pirates! and Highland Clans scheduled for November and December.

Game design consultant Dave Strutt of Imperial Hobbies, who has play-tested and reviewed GALACTIC DESTINY says that "Galactic Destiny puts forth a cogent, concise set of rules, that coupled with a rich and original setting provides an interesting and challenging gaming experience for all. It is my opinion that not only will Galactic Destiny be a constant seller in the industry, Golden Laurel will also become a recognized brand."

Galactic Destiny can be found at hobby stores around the world, January 2007.
Read More in: Board Games | Gaming News
Share this Article with others:
Related Articles:
Came straight to this page? Visit Critical Gamers for all the latest news.
Posted by Critical Gamers Staff at October 10, 2006 2:13 PM