Forbes Lists Top 10 Business Games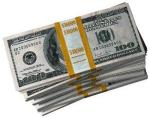 It's understandable if that special businessman or women in your life is disinterested in playing anything other than the money swapping hotelfest that's Monopoly. It is a classic after all. But don't give up yet -- you might find salvation in Forbes' recently published list of top 10 Business themed games. We haven't played all of these games (So Sue Me!, I'm the Boss), but the titles that we're familiar with should liven up the tabletop of any fiscally responsible family.
Now - it's surprising that the classic Acquire didn't make the list, or get some sort of honorable mention at the very least. Maybe It's omission was due to the title being out of print for a while. Still -- it's very easy to snagg a used copy off ebay. Feel free to append it as the shadowy 11th entry to the shiny Forbes Top 10... consider it an exercisable stock option from us to you.
Read More in: Board Games
Share this Article with others:
Related Articles:
Came straight to this page? Visit Critical Gamers for all the latest news.
Posted by Critical Gamers Staff at March 23, 2006 4:36 PM