A Flak Magazine Special: Social Gaming Reinvigorated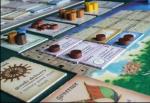 Flak Magazine has posted a series of articles describing their thoughts and views on what they describe as a Renaissance in "analog" game which has quietly occurred in the shadow of mass media video and computer games. Their articles are all very well written, and quite inspiring to we who are looking-on from the inside-out - waiting and cheering as board games, Eurogames, card games, and party games become increasingly popular among the other types of gamers who enjoy the warm glow of TV and VGs.
Not that there's anything wrong with either of those mediums - we've got a mighty impressive collection of consoles and HD TVs in our group that it's almost embarrassing. But it's great to hear other sites approaching gaming from the other direction, with talk about how The Settlers of Catan has become the new Monopoly amongst articles of God of War 2. Other installments in the series include looks at Lost Cities, Puerto Rico, and our personal favorite party game of them all: Celebrity.
This entire special-look at analog gaming culminates with a great How-To Guide for starting your own game group, including details on the few key elements that could make or break the fun factor of the evening. If you're really looking to start up your own group for some face-face fun with friends, then you should definitely make sure the results of your own organizing work doesn't become a boring chore of mediocre or enforced gaming for your attendees.
And don't think that this is a fluff piece, either. These guys seriously know what they're talking about. Check it out:
"Children's games have dominated the US market for so long that the idea of games intended for a different audience may seem alien. In Europe, however, the art of producing games for grown-ups is enjoying a renaissance. This wave of quality games reached the shores of America in 1995 with The Settlers of Catan, a delightful, engaging multi-player trading game, enjoyable by both men and women of any age. Play time is a quick hour, skill matters as much as luck and everyone is involved until the game is over. Ever since Settlers demonstrated that there was an international audience for sophisticated boardgames, gamers have been able to choose from a growing catalog of better and better games. Known as Eurogames or designers' games, they are now being produced all around the world, and the trend is for more intensity, more interaction, less luck, more theme and more tactics, while keeping the game elegant, deep, easy to learn and playable in about a hour."
There's a heck of a lot more indexed from the main article "From Pawns to Pixels" in Flak Magazine's Games section.
Read More in: Board Games | Gaming Culture
Share this Article with others:
Related Articles:
Came straight to this page? Visit Critical Gamers for all the latest news.
Posted by Critical Gamers Staff at July 16, 2007 1:56 PM