Fantasy Flight Games 2007: Starcraft, Tide of Iron, Beowulf and WoW Expands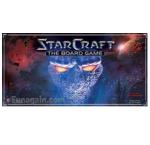 WoW being World of Warcraft, of course. Fantasy Flight Games has published their intended release schedule for the rest of 2007. Heading of the charts is a new Reiner Knizia release: Beowulf the Movie Board Game, which should hit stores around the same time as the major motion picture hits Hollywood Blvd in November.
Between now and then Fantasy Flight Games plans to shove a lot more down the release pipe. The World of Warcraft board game will be expanded with The Burning Crusade expansion, which extends the game into Outland, adding the new races of Draenei and Blood Elves, and the option of high speed flying mounts (of course). Those WoW players who find the original World of Warcraft board game to be rather.. large, will be able to sink the teeth into a new World of Warcraft Adventure Game. This time around the digested content should allow players to wrap a game in only an evening without fear of all-afternoon gaming hangovers. Sometimes our brains don't need that much exercise on the weekend.
But those gamers with a whole afternoon to burn will find all-new content in Fantasy Flight's latest Big Box Game centered around Blizzard's other Crafty franchise: Starcraft. Somewhere out in the vastness of space players will compete for control of a tactical battlefield, pushing their armies of Humans, Zerg, and Protoss to conquer resources, build forces and work down through tech trees. The gory details of this title are still a bit sparse, but with a gobs of pieces and a componentized/dynamic board we picture a more zoomed-in and strongly flavored verison of Twilight Imperium. Starcraft is currently scheduled for a late 2007 September release, and hopefully this will hold up; the game didn't quite make its original ship date of: last year, delayed for polish in true Blizzard fashion.

We don't want to take all of your Friday afternoon, so we'll leave it to you to check out the another game announcements. We remain very excited over the upcoming release of Tide of Iron, the WWII slugfest that we've been drooling over for quite some time now. Well the game's first expansion has been announced: the North African battles of the Days of the Fox. And the new collectible miniatures game Muntant Chronicles has some potential promise. At the very least it's captured our attention more than the Wizard of the Coast horror/fantasy-themed Dreamblade ever did, which is a bit too out-there for us. And we dream of zombie gym teachers, and giant killer ants.
Anyway, check the following links to visit the game page for each of the announced Fantasy Flight titles, or checkout their official 2007 Release Schedule Post.
Fantasy Flight Games' 2007 Title Extravaganza:

Read More in: Board Games | Collectable Card Games | Gaming News
Share this Article with others:
Related Articles:
Came straight to this page? Visit Critical Gamers for all the latest news.
Posted by Critical Gamers Staff at April 27, 2007 3:06 PM