"Epic BattleLore" Expansion Released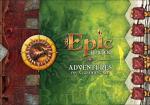 Days of Wonder has released a boxed version of Epic BattleLore [Amazon,Funagain], an expansion alters the game to allow for more than the standard 1 v 1 battles of the original BattleLore board game system. Now, with these rules, players convert their sets to create large-scale battles of 3v3.
You may recall that rules to the Epic: BattleLore were published a while back on the official Days of Wonder website, so wary readers may be wondering why you'd want to shell-out 15 bucks for it. The hitch is this: To work the multplayer magic of Epic BattleLore you'll need to shove two game boards together before you can DDT your "friends" in some 3v3 wargaming mayhem. But some of us don't pull in the big bucks, and throwing down $150 MSRP for 2 sets of BattleLore seems like steep way to expand the game into multiplayer goodnes.
This boxed expansion solves that problem - it includes everything you need to get going with on BattleLore set, including the required second board! What's that? Someone isn't trying to milk consumers of their money? How thoughtful.
Here's the official word:

"This expansion gives you the opportunity to conduct battles on a grand scale, by combining the back side of two game boards to form a single, unified, giant battlefield.

This supplement also gives you a chance to adventure in the company of friends (up to 3 to a side), making it the format of choice to introduce new players to the game.

"
Read More in: Board Games | Gaming News
Share this Article with others:
Related Articles:
Came straight to this page? Visit Critical Gamers for all the latest news.
Posted by Critical Gamers Staff at June 11, 2007 3:13 PM