Dune Board Game Remake - Pretty Please?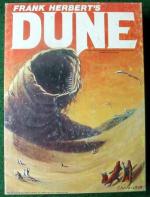 Just about everyone Critical Gamer has read Dune – sometimes more than once - and all of us have marked it down as one of the top ten sci fi novels period. Hands down. Pencils down. Baron Vladimir Harkonnen is down. If you like science fiction and you haven't picked it up, then do so now.
For those who are already fans of Dune, you will want to perk your ears up. Last week at GenCon publisher Fantasy Flight Games noted that they were working on a remake of the classic board game Dune. The original Dune is also heralded as one of the better games from gaming history, and closely tied to the setting from Frank Herbert's masterpiece novel. As a testament to its greatness and longevity, the game - originally published in 1979 - still holds rank #44 on Board Game Geek, and can be found passing through gaming hands via Ebay for upwards of $150-$200.
There is one problem, however. The rights to the Dune board game are locked-up by franchise owner Kim Herbert. And currently she's not offering it up for sale, to anyone. Not even Kyle MacLachlan.
Due to this passive stonewalling, Fantasy Flight Games has decided to circumvent the Dune tie-ins. Instead they're going to take the Dune gameplay and vaccum seal their Twilight Imperium universe around it. Hrm, we love T.I. and all, but this just isn't going to cut it. We want the spice fields of Dune, and we want them now.
If you're with us - then there is a glimmer of hope. An online petition has been formed in hopes that Fantasy Flight Games and Kim Herbert might at least talk about the idea of a Dune board game remake. After all, as of now, it seems like they haven't even spoken to each other.
And that's a pretty darn big shame.
Read More in: Board Games | Gaming Culture | Gaming News
Share this Article with others:
Related Articles:
Came straight to this page? Visit Critical Gamers for all the latest news.
Posted by Critical Gamers Staff at August 27, 2007 2:14 PM