Dominion: Intrigue Expansion Hits Shelves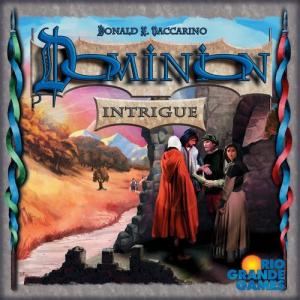 The first follow-up expansion to 2008's game of the year Dominon is now in stores, and it very well might be the best release of the summer.
Dominon: Intrigue [Amazon, Funagain] adds 25 new card types to the already fantastic collection of interesting Dominion cards, which means there are all sorts of new quirky combinations added to a game that already has some amazing replayability.
Intrigue also expands the number of players to 6, which is a welcome bonus. The only drawback of the original Dominion that we've found is the limiting 4-person maximum. Well, no more! And If you combine the original Dominion set, you can even play in a special 8 person format. How about them apples?
Here are Intrigue's official details:
---

You are a monarch, like your parents before you, a ruler of a small pleasant kingdom of rivers and evergreens. Unlike your parents, however, you have hopes and dreams! You want a bigger and more pleasant kingdom, with more rivers and a wider variety of trees. You want a Dominion! You will bring civilization to these people, uniting them under your banner.

Dominion: Intrigue adds rules for playing with up to 8 players at two tables or for playing a single game with up to 6 players. This game adds 25 new Kingdom cards and a complete set of Treasure and Victory cards. The game can be played alone by players experienced in Dominion or with the basic game of Dominion.

---
Dominion: Intrigue is now shipping from Amazon and Funagain Games.
Read More in: Board Games | Card Games | Gaming News
Share this Article with others:
Related Articles:
Came straight to this page? Visit Critical Gamers for all the latest news.
Posted by Critical Gamers Staff at July 13, 2009 5:22 PM