Dominion Alchemy Expansion Is Nigh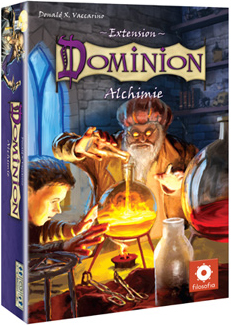 Rumor and scuttlebutt has it that the highly anticipated expansion for the new Rio Grand Games flagship Dominion should be shipping to stores soon, very soon. Some local stores have it shipping April 15, 2010 (link). This seems a tad early to us, but it's not completely out of the question considering that some people have already picked up a copy at a few toy shows (link). There's also word that the game will be demoed in toy shows in April in Germany, and go on sale in that massive board game market in the middle of May (link)
Finally, and most importantly, Amazon is accepting preorders for an early May Ship Date (link).
So expect to have the latest and greatest Dominion set of cards in your hands before the Summer officially begins. Boosh! And in case you missed our previous coverage of Dominion Alchemy, here are the official product details.
---

"There are strange things going on in your basement laboratories. They keep calling up for more barrels of quicksilver, or bits of your hair. Well it's all in the name of progress. They're looking for a way to turn lead into gold, or at least into something better than lead. That lead had just been too good of a bargain to pass up; you didn't think, where will I put all this lead, what am I going to do with this lead anyway. Well that will all be sorted out. They're also looking for a universal solvent. If they manage that one, you will take whatever they use to hold it in and build a castle out of it. A castle that can't be dissolved! Now that's progress."

---
Dominion Alchemy is available from preorder from Amazon and Funagain Games.
Read More in: Board Games | Card Games | Gaming News
Share this Article with others:
Related Articles:
Came straight to this page? Visit Critical Gamers for all the latest news.
Posted by Critical Gamers Staff at April 12, 2010 5:15 PM