Descent: Road to Legend Released, players See the Light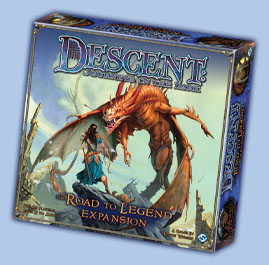 Fans of the epic adventure series Descent: Journeys in the Dark [Amazon, Funagain] are really in for a shock: someone leaned on the epic lever and pushed it from a stout '9' to and inconceivable '50'. Descent: Road to Legend [Amazon, Funagain] lays a topographical map over a series of dungeons, adds lieutenants who sack cities and cause mayhem under the evil players control, and potentially extends campaign sessions to weeks at a time.
Yes weeks. The game ships with a set of rules and boxes that aid players who need to store the state of the game. Truly some epic adventuring going on here.
We won't talk your ear off by regurgitating too many details. For a full list of features, and links to various preview articles from Fantasy Flight Games, please see our story from early march: Descent: Road to Legend Previews Galore. Its definitely worth checking out.
Here's the company line:
"In the darkest of night burns the glimmer of hope. When foul Overlords rise up to blot out the sun and enslave all living things to their infernal will, great heroes always rise up to oppose them... and now, you must be those heroes.

Venture forth from the peaceful town of Tamalir and journey into the darkness beneath the earth. Search for clues in the twilight beneath the trees in forgotten forests. Brave the horrors of treacherous swamps. Uncover new treasures, learn powerful new skills, and rise to dizzying heights of power.

But beware... the Overlord will not sit idle...

Descent: the Road to Legend includes:

New campaign rules for your Descent adventure!
New terrors to explore and new adventures to be had! Swinging ropes, nourishing fountains, outdoor maps, sheltering trees, and more!
Deadly new powers and plots for the Overlord, including terrible new Lieutenants!
Exciting storylines -- save the world, or fall to darkness.
New silver and gold power dice for heroes and monsters of incredible power.
Fighting the Overlord in person with new Avatar rules!

"
Descent: Road to Legend is now shipping from Amazon and Funagain Games.

Read More in: Board Games | Gaming News
Share this Article with others:
Related Articles:
Came straight to this page? Visit Critical Gamers for all the latest news.
Posted by Critical Gamers Staff at March 26, 2008 1:27 PM