Descent: Road to Legend Previews Galore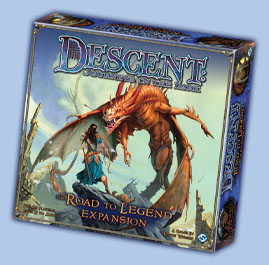 Publisher Fantasy Flight Games is getting ready to ship its latest addition to the popular Descent: Journeys into the Dark [Amazon, Funagain] fantasy adventure board game. In all other earlier installments, the adventures have dug deep, down into the earth to explore dangerous dungeons filled with all sorts of baddies, pitting themselves against the evil player-controlled overlord. In Descent: Road to Legend [Funagain], things will go above ground for the first time, interconnecting many dungeons in an epic battle of heroes versus evil.
Games will take weeks. Yes, we're talking epic weeks. Thankfully the game will ship with mechanics and tools that you can use to set aside the state of the game to play later, including boxes for each player to store their cards, character sheets, etc, and a worksheet that should allow groups to easily record and reproduce the state of the game.
In true stellar pre-release news fashion, Fantasy Flight Games has released 7 lengthy preview articles, and recently just published the expansion's instruction booklet (pdf). Here they are with a topical description of each:
To say the Descent: The Road to Legend is huge doesn't quite put it into perspective. This expansion should not only shake the foundation of the agame, but create an epic adventure that could last weeks at a time, and then beyond that it's replayable! Oh my.
Unfortunatley looking over the rules we fear this game may have hit the 11 on the complexity scale just like the World of Warcraft board game, but if Fantasy Flight Games can pull it off with high fun factor then they could have the first monumental release of 2008.
The Descent: The Road to Legend [Funagain] expansion will require the Descent: Journeys into the Dark base set [Amazon, Funagain] . The Road to Legend is currently slated to ship in March, 2008. We'll let you know as soon as it hits the shelves!

Read More in: Board Games | Gaming News
Share this Article with others:
Related Articles:
Came straight to this page? Visit Critical Gamers for all the latest news.
Posted by Critical Gamers Staff at March 11, 2008 3:13 PM