Days of Wonder Announces Colosseum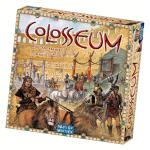 Coloseum is out! For more information about the title please see our story "Coloseum Released."
Hot on the heels of their release of
BattleLore
, publisher Days of Wonder has just sent us word of the their next scheduled release. "
Colosseum
" [
Amazon
,
Funagain
] puts players in control of their own gladiatorial arena, each vying against one another to produce the most bloodthirsty and entertaining spectacle, attracting the largest and most lucrative audience.
Here's the word from the Days of Wonder press release:
Los Altos, CA; Paris, France - January 29, 2007. Days of Wonder, a leading publisher of top-quality board games, today announced their newest game, Colosseum™, designed by critically acclaimed game designer Wolfgang Kramer and Markus Lübke.

In Colosseum each player is a Roman impresario - producing great spectacles in his or her arena in the hopes of attracting the most spectators. Players earn wealth and glory for each event run, using it to create ever more ambitious events. They will need to improve their arena, find the best performers, lure the Emperor and his nobles, and manage assets for long-term success to be granted the title of Grand Impresario.

Known for producing some of the industry's most visually appealing board games, Days of Wonder has designed Colosseum to provide the timeless feel of a German style board game.

"Days of Wonder has made a strong commitment to produce games where the design supports the theme so well that as a player you feel you are an actual part of the story" says Colosseum co-designer Wolfgang Kramer.

"With Colosseum the physical design and theme takes you inside the arena, but at the same time it is integrated into an elegant game mechanic that is the trademark of experienced game designers," says Pierre Gaubil of Days of Wonder.

Colosseum includes: a large game board representing arenas in cities across the Roman Empire where events are produced; 5 arenas; 10 arena expansions; 6 unique painted resin pawns representing the Emperor, Consuls and Senators; 5 Emperor's loges; 10 Season Tickets; 2 Roman dice; 90 Roman coins; 30 Event programs; 152 Event asset tokens; 7 Star Performer Awards; 18 Emperor Medals; 6 Event Summary sheets; 1 Storage bag; and a detailed Rules booklet.

Colosseum plays with 3 to 5 players, ages 10 and up, and takes approximately 60 - 90 minutes.
Days of Wonder has also posted a Q&A session with Colosseum designers Wolfgang kramer and Marksu Lubke. The first two pages deal with the gaming backgrounds of the designers, but then the questions delve into the specifics of Colosseum on Page 3. Here Wolfgang compares elements of Colosseum to the acclaimed title Princes of Florence [Amazon, Funagain], and offers the following:
Q7: - How would you position the game? What kinds of players do you think will enjoy it? Colosseum is a game where luck, tactics, strategy and negotiation skills are well balanced. It is a sophisticated game in rules and material but easy to play and the player has a lot of possibilities to influence the game play. It is perfect for players who like to immerse themselves in a fantastic world full of adventures where they can prove themselves. It is above all a game for players who like demanding family games but who are not so fond of complex strategic games.
Sounds like a good mix to us.
Colosseum is set to ship this March. We'll keep you posted of any further news on the title as we approach its ship date. Until then check out the game's new Official Website.
Read More in: Board Games | Gaming News
Share this Article with others:
Related Articles:
Came straight to this page? Visit Critical Gamers for all the latest news.
Posted by Critical Gamers Staff at January 29, 2007 3:21 PM