Critical Gamers' September 2009 Board Game Roundup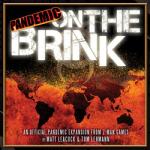 Gaming season is officially upon us (it's true! look it up) and as such this month can be summed up by three major title releases:
Now if you're thinking to yourself "Jimminy Jillickers! Only three major things happened? What a crank shaft of a month!" then you'd be three slices o' cheese short of a proper egg sandwich (you need at least 5). Keep reaching for that rainbow.

Here are the other noteworthy stories from September:
Board Games
Cheap Deals & Sales
Collectable Card Games
Gaming Culture
Gaming News
RPGs
Read More in: Board Games | Gaming Culture | Gaming News
Share this Article with others:
Related Articles:
Came straight to this page? Visit Critical Gamers for all the latest news.
Posted by Critical Gamers Staff at September 30, 2009 6:35 PM