Critical Gamers' June 2009 Board Game Roundup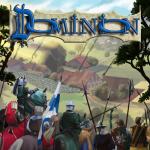 We just can't believe it. The year is already half over. Our liver only just got over our holiday party, and it's already almost 2010.
That's quite the sobering number; when we were kids back in the 70s and 80s we thought 2010 was officially "the future" (2001 A Space Odyssey was before our time, an obviously not an accurate target, so we only had John Lithgow and Roy Schnieder versus the friendly space Russians as our version of potential future events).
And the way we see it, Jupiter will go Nova in just 6 months time, so it's time to get some gaming-in while we still have a night time. Thankfully our countdown starts with a bang. The World of Warcraft set release Fields of Honor is hitting stores right about now. Also our new board game obsession Dominion is slated to expand in just a week's time. We're giddy over this, considering the game already doesn't seem to play the same way twice. Oh boy, it's going to be a good July.
And of course we'll continue to get more updates on upcoming releases, including Battlestar Galatica Pegasus, the Warhammer Board Game "Chaos in the Old World", Middle Earth Quest, and the new Axis & Allies 1942 baseline, all of which should rock our world this fall.
Here's a look back at the news of June:
Board Games
Collectable Card Games
Gaming Culture
Gaming News
Party Games
Variants
World of Warcraft TCG
Read More in: Board Games | Gaming News
Share this Article with others:
Related Articles:
Came straight to this page? Visit Critical Gamers for all the latest news.
Posted by Critical Gamers Staff at July 1, 2009 1:56 PM