Critical Gamers' January 2010 Board Game Roundup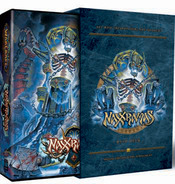 January was more about playing games than hearing news about upcoming games. It is, after all, the time after Christmas where we all gorge ourselves on the tons of releases that came out last December.
Specifically January was the month of the Naxxramas Raid Deck. The ability to take on one or two wings in a sitting, easily pack up the game, and then resume where we left off is a huge deal with this latest raid deck. Kudos to Upper Deck to making this game far more sustainable without any overhead... it's become a 4 time event at our weekly gaming nights.
Also another shout out to the Warhammer Invasion Living Card Game and Warhammer Chaos in the Old World board game. Theses two remain to be top notch contenders for gaming time no matter where and when we play.
And Fantasy Flight Games is on a roll because they just released the epic emipre building and fantasy adventure game Runewars. This is a beast of a release with more layers of depth than a spanish onion. Could it be true that we already have a strong game of the year contender in January? Wow. Can't say we're sad about that.

Here are our stories for January:
Board Games
Card Games
Collectable Card Games
Gaming Culture
Gaming News
Read More in: Board Games | Collectable Card Games
Share this Article with others:
Related Articles:
Came straight to this page? Visit Critical Gamers for all the latest news.
Posted by Critical Gamers Staff at February 1, 2010 1:50 PM