Critical Gamers 2007 Holiday Gift Guide - Wargame Board Games and Card Games
For more great gift ideas across all genres of games please see our
Holiday Gift Guide Index
In our third installment of our series of 2007 Holiday Gift Guides we take a look into the titles the wargamers will eat-up this December. 2007 has a been a great year for some blockbuster wargame releases, and as usually they're centered around the great WWII. One - Tide of Iron - is our latest favorite wargames becuase it's a complete system, so its the gift that keeps on giving.
But we realize that it - and other war games - are more complicated than others, and a player usually is interested in a particular level of complexity when they sit down to capture that hill. So to that end we made our selections ascend a ladder of complexity. Titles at the top of list will fit those interested in the lighter side of war gaming - like Risk fans - and those at the bottom of the list have no qualms about slapping down a ruler to determine unit line of site, or checking for artillery hit effects in a 2d6 dice chart.
Enough talk, here are our selections for Best Wargming gifts for the 2007 Holidays:

Condottiere [Amazon, Funagain]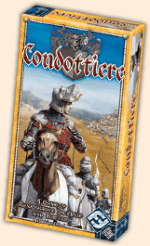 This is a perfect game for a group of war historians with a background in card games. Most people picture war games as a board titled with gobs of pieces staring each other down from across the battleline, but our first selection breaks that mold. Condottiere 3rd Edition was released only a few months ago and this simple and slick war themed card game has quickly become one of our favorite titles of the year.
Players sit in front of a small board of waring Italian city states with the goal of connecting enough territories under their flag to become the major power in the region. Each round a player picks a territory to fight over, and the battle commences. Players than take turn throwing down randomly dealt cards from their hands - each card bolstering their army in different ways, or weakening their competition. At any point a player can withdraw from the battle, saving the cards in their hand for a future fight, and this makes for some very deep gameplay choices.
The game travels well, sports a nice rulebook explaining everything in a quick and clear way, great artwork, and the game plays differently depending on the number of players. A great little game with staying power at nice low price.
For more information please see our Condottiere release story.

Axis and Allies Guadalcanal [Amazon, Funagain]

Kicking it up a notch on the complexity scale is the latest installment of the venerable franchise of Axis and Allies titles brings the war to the South Pacific. Introducing constructible airfiields, naval combat and marine action, Guadalcanal is another strong installment with enough new elements to keep the A&A fan excited.
Any Axis and Allies game also makes a great logical progression in complexity for any Risk fan. These games sport small simulated economies based on controlled territories. Game mechanis surround battle but also the thoughful budgeting of resrouces on the wise purchase of new units, and the combined arms elements of air, land and sea power. All these things contribute to bring the whole board so much more alive than your average strategy war game, while keeping things relatively simplistic in the world of really complicated war games.

Tide of Iron [Amazon, Funagain]

We stick with the WWII theater but step up a level of complexity with our next selection. Tide of Iron is a fantastic war game system for 2-4 players. Games last a few hours so don't let the nice plastic bits fool you; this isn't a superficial wargame in any stretch of imagination. Likewise the rules are pretty deep and are geared toward those who love a higher level of simulation. There are still dice involved in combat resolution but you won't find yourself questioning how the heck an infantryman shot through five tanks or crazy rambo last stands that breaks the gameplay.
In our humble opinion there are three very sweet selling points of Tide or Iron: 1: the game is at a tactical level, so you'll be controlling squads, setting up machine gun nests, and pushing tanks through tress, over hills, and disrupting troops behind enemy lines.Because you're at this level the game feels very alive. 2: the game has customizable squads that you can plug into the bases, so you can customize your forces as you see fit with machine gunners, mortor teams, and with officers and veterans. The gaming mechanics start with the setup setup! 3: This is war game system, and this first installment ships with a plenty of board segments which can be flipped, turned, and aligned in any way to make up new maps. The game ships with 10 scenarios, and there's already a North African campaign announced - so the game will march on and improve with more units and options - and there's also an online community designing scenarios with a free online editor.
This is > the game < this year that keeps on giving for any WWII Buff.

Hex Board Games

It's hard for us to recommend Hex Based War Games becuse they tend to be too die hard for our gaming group. However, the following is a list of titles that have been red hot in the genre this year:
Combat Commander: Europe [Funagain]
Commands and Colors: Ancients [Funagain]
Read More in: Board Games | Card Games | Gaming Culture
Share this Article with others:
Related Articles:
Came straight to this page? Visit Critical Gamers for all the latest news.
Posted by Critical Gamers Staff at November 11, 2007 10:00 PM