Critical Gamers 2007 Holiday Gift Guide - Family Board Games and Card Games
For more great gift ideas across all genres of games please see our
Holiday Gift Guide Index
We kick off our series of Board Game Holiday Shopper guides with probably the most difficult of gaming archetypes: The Family Gamer. Our goal was to compile a list of fun games where each in the list spans the interest levels of younger players, and teens, and even become challenging and interesting for the elder folks playing them, too.
Our shortlist of criteria for the best Holiday Gift Family Games:

Games that are interesting for adults, too. We play all of these games without any kids present because they're fun, and we're manly in our 30's.
Games that are simple to learn - but yet interesting and offer a quite a few levels of depth. They have to be rewarding for everyone who comes to the table.
Games that keep everyone involved from the first turn to the last, unlike the traditional family games from our past - like Monopoly.
The games come to a conclusion in about an hour so they're easy to budget time for, and you won't feel that board game hangover as you burn the midnight oil.
There's no surprise that this list jives with many characteristics of Eurogames which came out of Germany in the 1990's - since they were designed for exactly this type of gaming. Also, these games listed here would be great for non families, too, like any social board game group looking to get together a few times a month to play games and just hang out.
And here's our list of Family Games for the 2007 Holiday Season without further ado:

Ticket to Ride Switzerland [Amazon, Funagain]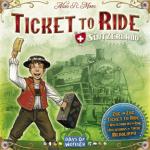 Switzerland is an expansion, but in reality any Ticket to Ride game would do. The series is about collecting cards to lay down a series of rail lines, connecting cities to your rail network spanning the board and scoring points in the process. All of the games mix together fast turn speed, a colorful board, and fun gameplay to keep everyone interested. The game mechanics themselves are easy to pick up and leave a lot of room for clever moves, which means players spanning all ages will find something to enjoy. We play it all the time and we're manly in our 30s.
Ticket to Ride: Marklin is our favorite stand alone title so far, followed by Ticket to Ride Europe, and then the original Ticket to Ride bringing up the rear.
This latest installment in late 2007 is the Ticket to Ride Switzerland expansion which is shorter game that's great for 2-3 players. This is a great pickup for any fan of the game who already has Ticket to Ride Europe or the original Ticket to Ride (a copy of one or the other is required to play this expansion.) Switzerland condenses the board and makes things a bit more competitive which is a nice change of pace for the series where direct competition barely occurs, and only then in the late game. Plus the expansion's new mechanics don't recycle the gameplay like most expansions do, but make the game feel very fresh and different from the other titles. Current Ticket to Ride owners will be quite pleased right out of the box! For more information see our Ticket to Ride Switzerland release story.

Pillars of the Earth [Amazon, Funagain]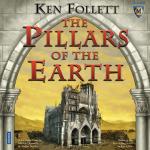 Pillars of the Earth is the next step of complexity - it's not quite fit for the younger crowds but it plays so very well and is one of the better releases this year. Modeled after the bestselling Pillars of the Earth novel by Ken Folett, the board game adaptation has players running a build site for a medieval cathedral. Players bid on goods and then use their own custom workforce to fashion pieces of the cathedral for prestige.
Pillars is a very dynamic game that builds over a set number of turns to a dramatic conclusion. Each stage mixes the things up an injects new workers into the work pool for players to augment their own workforce, new characters into the game, and exterior events. Coupled with a slick turn draw mechanic which has players bidding on actions, no two turns are ever the same, and thus no two games are ever the same. One of our favorites of the year, even inspiring some of us to read the novel - and wow, it's pretty good, too.
For more information of Pillars of the Earth, please see our Pillars of the Earth game page
Carcassonne Big Box [Amazon, Funagain]

Carcassonne is perhaps our favorite 'old school' Eurogame (our review). It's quite the popular line of games, up there with the venerable Settlers of Catan, and has spawned many expansions since its release in 2000. Last year Rio Grande Games just released a version with the original Carcassonne title and its four original expansions in one big box (a new expansion is slated for release this winter).
The game plays like a puzzle meets the zen-like Othello, and like that classic title Carcassonne is easy to learn but takes a lifetime to master. As the medieval landscape unfolds through tile draws and placements the players chose to assign workers to various parts of the board. Farms score points for being placed on large fields, monks earn points for completing monasteries, and knights lord of castles. So much fun and interesting that you simply can't go wrong with this one.

Blokus [Amazon, Funagain]

The competitive puzzle game pronounced block-us won the Mensa Best Mind Game 2003 is still on Holiday list. Why? Because it has staying power and is only now becoming broad reaching success.
Players complete against one another placing tetris like colored pieces so that each piece is only connected diagonally. If you can place a piece without it being adjacent to another one of your own pieces then you've lost, and of course the other players are trying to pant you into a corner with their own pieces. So simple, so good for kids, and a chess match for adults, Blokus is bright addition to a game stack and really gets your mind grooving..
Settlers of Catan 4th Edition [Amazon, Funagain]

The Settlers of Catan is probably more responsible for bringing board gaming coming back into the mainstream of American gaming than any other title in the modern era. The game has a random board, colorful tiles, great turn order, and strong Monopoly undertones. It remains one of the best gateway games of choice to get families and friends back into the social aspect of board games again, and now it's receiving a well-desrved facelift. The 4th Edition of this title sports better artwork, better materials, and a slick harnessing tool that locks the tile-based board into place. Table bumps, clumsy hands, and flailing arms will ruin your game no more.
This new edition is a great facelift for anyone who has a tired version of the game kicking around, and is the best incarnation of the title for those new to the Catan series.

Read More in: Board Games | Card Games | Gaming News
Share this Article with others:
Related Articles:
Came straight to this page? Visit Critical Gamers for all the latest news.
Posted by Critical Gamers Staff at November 20, 2007 9:09 PM