Condottiere 3rd Edition War Cardgame Released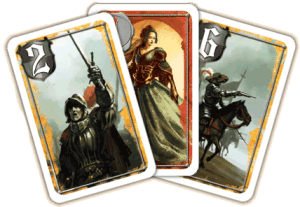 Condottiere
[
Amazon
,
Funagain
] is a title that successfully strips the randomness off the boring classic
War card game
- adding gobs of flavor, strategy, card gaming elements, and a meta-map of the warring city states of Renaissance Italy. It other words: it makes War fun.
And though we know this sounds stupid, we're going to say it anyway: we seriously love meta maps. Like a kid drooling over an oversized lollipop, we stare at meta maps with widened eyes. All that territory to conquer and dynamically provide narrative to battles. It's great, great stuff.
There are some card game elements that keep you on your toes, too, such as cards that suddenly weaken certain types of forces with adverse weather affects, or morale boosters which double the strength of other card types. With these tools you can show weak for numerous rounds, only to show strong at the end of the battle. Choosing when to play these cards in a round, and mastering the art of coaxing your opponent into over extending themselves in one battle, only to kick their butt in another, is all part of the game. This game is indeed, pretty deep.

Published and released by Fantasy Flight Games this 3rd Edition of Condottiere includes new card art and event new card types that affect the flow of battle in each hand. Here's the official word: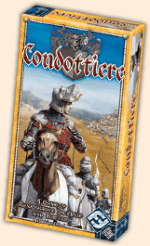 "In Renaissance Italy, armies of mercenaries fought to conquer the fragmented city-states for the highest bidder. Elite mercenary leaders, known as Condottiere, led these armies to victory under such fabled banners as Medici, Sforza and Colleoni.
Recreate this era as you, an elite Condottiere, strive to carve out your own Renaissance kingdom! Using a unique deck of cards and a map of Italy, you must exploit the assets in your hand and thwart the traps set by your adversaries. Your task is difficult, your mercenaries are unreliable, the Church may intervene, and you are surrounded by others who envy your position! This game is loaded with intrigue and subterfuge. To win, you must be both a clever diplomat and a daring general. Succeed at both, and you will triumph!
Fantasy Flight Games is proud to publish a 3rd edition of this classic bluffing game. The new edition features new art, new card abilities, and new rules to enhance game play. "
Condottiere 3rd Edition is now shipping from Amazon and Funagain Games.

Read More in: Board Games | Card Games | Gaming News
Share this Article with others:
Related Articles:
Came straight to this page? Visit Critical Gamers for all the latest news.
Posted by Critical Gamers Staff at August 17, 2007 2:38 PM