Coming Soon: "Catan Event Cards"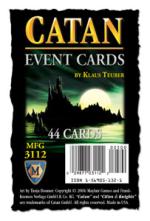 If you're looking to add a little extra oomph to your Settlers of Catan [Funagain,Amazon] gaming experience, then you'll find a cheap way to do so this fall. Introducing Catan Event Cards [Amazon,Funagain] - the deck adds a new system for determining the resource production of Catan tiles, while also introducing random events for extra oomph and flavor to the straight-forward Settlers turns.
The Company Line: Drop the dice and spice up your Settler's of Catan or Cities and Knights games with this new set of cards. The Catan Event Cards feature thirty-six cards that act as a deck of dice, replacing the need for dice in your Catan game. Special events are triggered by these cards each time they are turned over, adding an exciting new element to your Catan play. Also included are 6 scorekeeping cards, the rules card, and a reshuffle card.
Now, we realize that the company's product description is a rather vague on the "Special events" front, here they are broken down a bit further:
Calm Seas: Whomever has the greatest number of sea ports receives a resource card of their choosing.
Conflict: Whoever has the largest army strong arms a resource card from each opponent.
Earthquake: Every player must damage one of their road segments. That road will be out of commissions until the the owner pays one brick card and one lumber card to repair the damage.
Epidemic: For one turn Cities (which normally produce two resources from each adjoining hex) only produce one resource per hex.
Good Neighbors: All players choose a resource card from their hand and pass it to their neighbor to their left.
Neighborly Assistance: The person who is currently in the lead gives each other player one resource card each.
Plentiful Year: Each player draws a resource card of their choice.
Robber Flees: The robber retreats back to his desert tile.
Tournament: The player with the largest army draws a resource card of his choice.
Trade Advantage: The player who currently controls the longest road 'taxes' a resource card from a player of his/her choice.
There are two other card types: one where no special action occurs on the turn (which is the most common draw); and as noted in the company line, one card that triggers a premature reshuffle of the exhausted cards back into the deck. The reshuffling recycles the rare numbers back into the mix in an attempt to conceal the fact that that rare dice numbers (12, 2, etc) cannot be drawn more than once in the 36-card system.
Gaming purest might scream bloody murder over the lack of true randomness - the card system follows the number distribution a bit too closely, and provides no chaos along the dice result distribution curve. Did we just dork out a little too much? - No! It's only after a reshuffle that a rare number will appear again. For instance, if the "12 card" has been drawn early in a game - then the players are certain that a tile with a 12 marker won't produce resources again for a very, very long time, at least until after a reshuffle (30 turns or so), and then who knows how long after that. When Settler's is played with dice, however, there is always a chance that 12 will appear on any roll, so long term forecasting will always be a game of odds.
Those who enjoy the spice of random event card will probably love this expansion. Those who love the chaos and the chance of dice might also want to pick it up anyway, if only to roll the dice for turn-production and then use the cards as a random event scheme. After all, what jerk said you couldn't use both?
Catan Event Cards [Funagain] is set to ship in October.
Read More in: Board Games | Gaming News | Variants
Share this Article with others:
Related Articles:
Came straight to this page? Visit Critical Gamers for all the latest news.
Posted by Critical Gamers Staff at August 30, 2006 9:52 AM