Combat Commander Volume 2: Mediterranean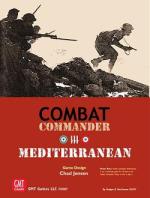 GMT Games has released the second installment in the popular card-driven Combat Commander tactical WWII war game series: Combat Commander: Mediterranean [Funagain]. Aside from including 12 new maps and 12 Custom Scenarios for some Mediterranean slugfest, this second volume also includes new armies and decks of cards to breath character and life into each. The British Army & Commonewealth armies enter the scene with cards that provide marksmanship bonuses, for instance, while other armies include the Italians & Minor Axis Powers, and the French & Minor Allied Powers.
The game floats in the medium complexity scale and is meant for 2 players to play in sessions of 1-3 hours. More ifnformation can be found on the official Command Command Mediterranean website. Here are some of the official features
12 new historical scenarios, each one including at least one of the three new nationalities.
An updated Random Scenario Generator incorporating the new nationalities and the twelve new maps, as well as allowing for the early years of fighting in 1939 and 1940. This random scenario system provides an almost unending variety of map configurations, force structures, and combat situations. Replayability value for Combat Commander gets even better with this new addition to the family.
A complete manifest of all 432 Fate Cards included in CC:E and CC:M. Number crunchers rejoice!
Assigned Point Values for all units, weapons, radios and fortifications in CC:E and CC:M, allowing players to easily create their own scenarios and Orders of Battle.
Additional designer's notes and play hints.
And more...
Read More in: Board Games | Gaming News
Share this Article with others:
Related Articles:
Came straight to this page? Visit Critical Gamers for all the latest news.
Posted by Critical Gamers Staff at December 13, 2007 2:55 PM