Colosseum Rules Released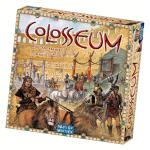 We've covered Colosseum before, and the game looks fantastic. Not only does the subject matter have our undivided attention, but with Days of Wonder as the publisher we already know that the pieces and board are going to be of the highest quality. And now that we've read over the rules (which can be found here) we're even more excited.
In Colosseum players will construct and upgrade Arenas in an attempt to host the largest and most successful spectacle. After five turns whoever has the largest turnout of attendees for a given spectacle is the winner.
But this isn't just a game of economic expansion. Every turn players buy events from a pool of cards drawn randomly from the deck, performers who enact the production are then purchased via a player auction system. Senators roam the streets looking for something to tickle their fancy in their otherwise rich, mundane, shallow lives, and players trade away gladiators for gold. It seems that each game will vary significantly between every play, whether it comes from dynamic player interactions or random event draws. Good stuff.
Colosseum is set to ship in April 2007 and is available to preorder from Funagain Games.

Read More in: Board Games | Gaming News
Share this Article with others:
Related Articles:
Came straight to this page? Visit Critical Gamers for all the latest news.
Posted by Critical Gamers Staff at March 2, 2007 4:49 PM