Colosseum Released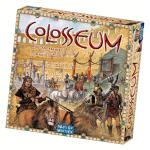 Hot on the heels of yesterday's release of Age of Empires III comes another family friendly (probably more so) strategy game lifted out of history. Days of Wonder has officially released Colosseum [Amazon, Funagain], and it's now available in stores.
In Colosseum players compete against one another to construct and upgrade Roman Arenas in an attempt to host the largest and most successful show. What sort of show depends on a public draft each turn where players walk bid on gladiators, animals to eat them, and actors – each of varying skill. Each turn players are awarded for attracting attendees to their Colosseum, then by parlaying their returns to grow their stadium. The game ends on the fifth turn where players try to put on the best show that their money can buy. Following the closing ceremonies the game's winner is crowned.
You read-up on Colosseum by reading our previous preview articles (below). Our Colosseum Reviews page also has a collection of 3rd party reviews that we think serve to paint a good overall picture of the title.
Our Colosseum Previews Articles:
Colosseum is now shipping from Amazon Funagain Games. Here are the official company details:
" In Colosseum each player is a Roman impresario -- producing great spectacles in his or her arena in the hopes of attracting the most spectators. Players earn wealth and glory for each event run, using it to create ever more ambitious events. They will need to improve their arena, find the best performers, lure the Emperor and his nobles, and manage assets for long-term success to be granted the title of Grand Impresario.

Contents:

1 game board
5 arenas
10 arena expansions
6 pawns
5 Emperor's loges
10 Season Tickets
2 Roman dice
90 Roman coins
30 Event programs
152 Event asset tokens
7 Star Performer Awards
18 Emperor Medals
6 Event Summary sheets
1 Storage bag
Rules booklet"
Read More in: Board Games | Gaming News
Share this Article with others:
Related Articles:
Came straight to this page? Visit Critical Gamers for all the latest news.
Posted by Critical Gamers Staff at May 30, 2007 2:47 PM