"Colosseum" Game Details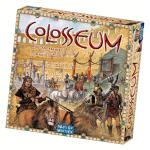 Rome was a fickle mistress. On one hand it was a dirty, brutal, scandalous society, and has inspired some pretty horrible gladiator movies best forgotten. On the other Rome created and inspired many great things, including the Republic form of government, organized armies, public works, streets, and a killer TV series on HBO. Note that we used the past tense - inspired - because unfortunately the HBO show has been canceled due to 'production expenses'. Yeah, we hate be the bearer of bad news, but it's true.
We're there with you: it's sad. Rome (the TV show) really gets our blood pumping every Sunday night, and there's going to be a huge void that we'll need to feed our curiosity of this fascinating society. If there were only something to replace, and some way to make it fun for the whole family, too. Less stabbing. and skin and more sporty.. and maybe some lions. Oh and food, there better be food, too. Larks' tongues. Wrens' livers. Chaffinch brains, anyone? (hint)

Enter: Wolfgang Kramer, the designer of the upcoming Days of Wonder title Colosseum [Funagain]. In his latest game players manage individual arenas, putting on shows the way Romans love to: with beasts, priests, and fighters. Whichever player creates the biggest spectacle and draws the largest audience wins the game, and we're happy to see that flooding your arena to reenact Naval Battles is there on the list of things to do, too. Talk about extravagant (and historically accurate, too)
Which list of things? Oh right, maybe we should stop babbling and start linking. The French gaming website Tric Trac now hosts a short video of Wolfgang Kramer showcasing the Colosseum board and pieces, showing you how players can expand stadiums and customize them with seats for nobles, season tickets, etc. If you don't speak French, then don't fret: Krame gives his demo tour in English. 'For you watch the video: click here' (That's English for "Pour voir la vidéo : cliquez ici ! ").

If you want more details about the game then check out the first two parts of the game's walk through on the official Days of Wonder website. The article covers the player mechanics of expanding arenas in part one, and then part two shows how players hire various performers down by the River to give their shows that extra artistic touch, including musicians, priests gladiators, and quadrupeds. Players also have the chance to recruit star performers which attract even more fans to their Colosseum -- we especially like the star lion. We can only assume he dances... what else would lions do?
*whispers* Oh.. *more whispers* Ooohh! Ick. Uh.. best explain that part to the kids ahead of time.
Colosseum is currently slated to ship in July, and is now available to preorder from Funagain Games.
Read More in: Board Games | Gaming News
Share this Article with others:
Related Articles:
Came straight to this page? Visit Critical Gamers for all the latest news.
Posted by Critical Gamers Staff at February 15, 2007 10:15 AM