C-Jump Board Game Mixes Skiing and Computer Programming. Seriously.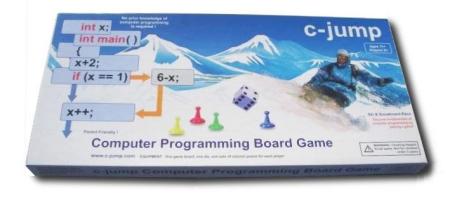 Wow. A majority of we Critical Gamers are either computer programmers or in quality assurance. For so long our family and loved ones looked at our computer screens with skeptical reverence, wondering if they'd ever be able to understand what we did. And on our side of the fence we have trouble describing exactly what we do.
You'd think that we'd be excited about any sort of programming-awareness in the normal world. But sometimes peanut butter and chocolate don't mix.
With C-Jump there's a chance to play through the logic puzzles that our rap our noggin's against a tree each day, with the hope of players learning some of the fundamental thought processes of programming. Our initial reaction - though - is that C-Jump goes too far, tipping the scales way too far towards dork. A board game about porgramming, really?? Color us skeptical.
Programming isn't a game. It's a dangerous job that we take very seriously. Thousands of orphans could die, or worse - lose their souls - with a misplaced semi-colon, bracket or dereferenced pointer, and we can't hardly celebrate a game that trivializes our work with simple if-then-else statements, loops and Sorry! pieces.
The title seems like one of the many bad-idea games that came out of the 1960's and 70's, soon to be relegated to the bottom of a gaming pile, filed atop Chicago's Great Blizzard.
Read More in: Board Games
Share this Article with others:
Related Articles:
Came straight to this page? Visit Critical Gamers for all the latest news.
Posted by Critical Gamers Staff at January 17, 2008 6:39 PM