Checking In with Warhammer Mark of Chaos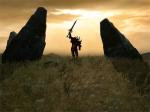 A while back we posted some highlights of two Warhammer games coming out for the PC. Warhammer Online is still quite a ways off (probably not until Holiday season 2007), but the Real Time Strategy title Warhammer: Mark of Chaos is slated for a release this September. Black Hole Entertainment recently started a media blitz to publicize the upcoming launch, and we thought we'd keep you posted with a few of the better interviews that we've seen published across the interweb.
First up is a two part interview from "Computer and Video Games". Part one kicks things off with lead Designer Chris Wren about the developer's philosophy on bringing the Warhammer tabletop slug fest over to this Mark of Chaos PC version.
Chris Wren: "We decided to hire an author from Games Workshop's Black Library to craft our story and to give life to our characters and responses within the game, the story has turned out great and the responses you get from units still makes me laugh each time I hear them." From the CVG Interview
The second part continues with Chris Wren, but focuses on the game mechanics such as the terrain's effects on combat, resource production and army customizations. The game sounds complicated and deep, and so they've decided to cull a lot of the other Computer RTS mechanics in order to make way for some cooler warfare / Warhammer moments. Players can utilize roads to quickly transport artillery across the battlefield, buildings can be captured and garrisoned, and farms must be protected to ensure that their resources continue to flow into your army's supply pool.
Gamespot also has a great preview article that covers tons of info about the game without being at all redundant. The story includes information about the game's Champions, their customization, etc, and other gameplay mechanics such as morale, aggro (in an RTS?!), and the shared mana pool. Plus, what would Warhammer be without a lot of gore?
As the battle progresses, the remnants of the mayhem you've caused will remain on the battlefield, making it possible to trace your route via a grim trail of blood and corpses--such details will remain where they are for the duration of the game, rather than disappearing. The team is also working on detachable limbs, which should add to the sense of slaughter. And fun. From the Gamespot Preview
Sweet.. reminiscent of Myth.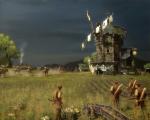 The game mechanics seem to be shaping up nicely, and the game sounds great on paper, but we've had some recent concerns over footage that we found on Gamespot's media page. The still shots show armor shining in the ambient light bloom haze, and the game's terrain engine is extraordinarily detailed, but the live action movies show some jerkiness and stuttering in the unit animations. We're feeling a lumpy feeling of inevitable disappointment in the back of our throats -- if the developers can't run the game smoothly for demo reels, then how will the game perform for fans with lesser machines?
So far THAT alone has made us a bit weary of this title, despite all the good preview press. We know how the computer gaming mags love to over-hype elements, and gloss over shortfalls and engine issues pre-release. But come now, we shouldn't see these "imperfections" like these at such a late date in the game's development cycle. Maybe the developers will clean up the title before release, but maybe not...
We'll find out for sure in only a month's time. Blackhole Entertainment will ship "Warhammer: Mark of Chaos" for Windows-based PCs in September
Also See:

We know that this site isn't about computer games (a little defensive here), but Mark of Chaos is a port of one of the most popular table top wargaming franchises in history. How could we not cover it?
Read More in: Board Games | Gaming News | Variants
Share this Article with others:
Related Articles:
Came straight to this page? Visit Critical Gamers for all the latest news.
Posted by Critical Gamers Staff at August 7, 2006 3:48 PM