Catan 4th Edition Expansions: Seafarers and Cities & Knights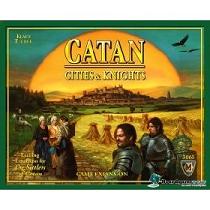 Following hot on the heels of the new release of Settlers of Catan 4th Edition these two classic expansions have new 4th edition treatments as well, shipping with all the new bells and whistles including new art and better materials than the all prior releases of the game.
In Catan:Seafarers [Amazon, Funagain] players compete to explore the islands surrounding Catan in order to reign in their resources and become the most powerful empire. Things take a progressive step forward in Catan: Cities & Knights [Amazon, Funagain] as players attempt to build-up their Settlements out of the dark ages; defending cities from ravenous barbarians while the market grows over more refined resources such as gold, paper and cloth.
If you haven't played either of these fantastic expansions before then it's new to you! Veterans will find that the rules of the new editions haven't changed at all, and to you we have to be honest here: we don't know if it's worth throwing down the cash for a materials upgrade. But lucky for you – and for us - Mayfair has scheduled their 4th edition releases just in time for the Holiday gift giving / wish list extravaganza, and copies of the updated titles might somehow sneak their way onto our Holiday Wish List!
For more information about what's inside the 4th edition releases, please see our Settlers of Catan 4th Edition story.

Read More in: Board Games | Gaming News
Share this Article with others:
Related Articles:
Came straight to this page? Visit Critical Gamers for all the latest news.
Posted by Critical Gamers Staff at November 16, 2007 2:13 PM