Carcassonne Travel Edition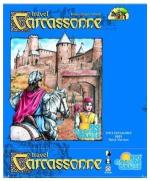 Nearly a year after Carcassonne Big Box was released with four large expansions contained within one shiny blue wrapper, the original Carcassonne has now been reduced over constant heat, pressed form all sides, and emerges in the Carcassonne Travel Size [Amazon, Funagain] brick form for those who like to play on the go.
This of course suits all sorts of gaming locales for us - camping, evenings in a motel on a long road trip while running from the law, heading out to the bar to relax with a few drinks after work, etc.
It's funny, because we've stuffed our luggage with the full-sized Carcassonne on quite a few trips already since it's a great way to relax. It's especially good overseas where the talking heads on TV speak in foreign tongues, or domestically when all that's on is a local news station's expose on the safety in handing cheese.
Here are the official details: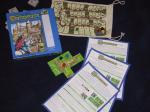 "Now you can take Carcassonne everywhere you go. The scoring track is printed on the cloth carrying sack, which has room for all the tiles and followers. Of course, all components are a bit downsized to make it more convenient to carry along, but the game is the same great game that won the Spiel des Jahres award in 2001!"
Carcassonne Travel Edition is now shipping from Amazon and from Funagain Games.
Read More in: Board Games | Gaming News
Share this Article with others:
Related Articles:
Came straight to this page? Visit Critical Gamers for all the latest news.
Posted by Critical Gamers Staff at October 4, 2007 1:36 PM