Carcassonne Catapult Expansion Lobs One Over The Fence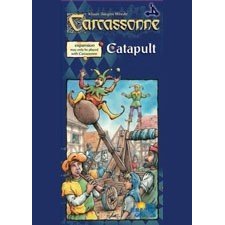 We've always felt Carcassonne was fun. The only thing that needed spicing-up through expansions were new mechanics that kept the game fun while adding interesting depths to the already fantastically balanced strategy.
Unfortunately unless you're trying to make Caracassonne more approachable for kids, this expansion easily manages to ruin both of those things. Caracssonne: The Catapult [Amazon, Funagain] includes new Fair pieces to mix in with your stock landscape tiles. If a Fair is drawn the player gets to put his meeple on a relatively shodding tiddily winks launcher which tosses him in a tight arc. If any meeple breaks his fall on his way down, the that meeple is carted off board into to the local medieval infirmary. There are a few different modes, too, including one where you shoot chits at each other and score points on catches, or where your meeple replaces the flatted victim on the board.
That's it. It's a randomized aggressive potshot that's fun for the first few random launches, but then gets as tiring as watching Steve Wiebe try to get the kill screen in Circus Atari. Moreover, this expansion flies directly in the face of the interesting - yet light - strategy placement of Carcassonne & expansions that we hold in the highest of regards.
Let's hope this new direction is a short stint. Here's the official word:
---
It's fair time in Carcassonne. A traveling salesman arrives and brings his newest invention: a wondrous catapult!

His demonstrations amaze the crowds and inspire the creative to find many uses for this new contraption. Of course, not every planned use is well thought out or successful...

Contains:


12 landscape tiles
24 catapult tokens
1 wooden catapult
1 measuring board
---
Read More in: Board Games | Gaming News | Our Game Reviews
Share this Article with others:
Related Articles:
Came straight to this page? Visit Critical Gamers for all the latest news.
Posted by Critical Gamers Staff at November 27, 2008 9:49 AM