"Carcasonne: The Tower" Ships April 12th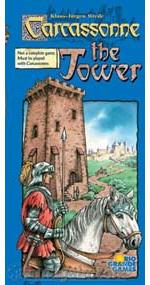 We love Carcassonne. The game is just absolutely fantastic, crazy amazing. We could break this thing out anywhere and still have fun with it; at the dentists', during an IRS audit, on-stage at a Gwar concert - anywhere. So we're drooling in anticipation over anything that might expand upon this trophy of golden gameplay goodness.
The release date for "The Tower" has shifted twice now, and we weren't sure if the latest prediction of "April" would hold water. But FunagainGames.com posts a true date: April 12th. Sweet crap, that's like next week.
The Company Line: In this Carcassonne expansion, players erect towers, employ followers to stand guard on the towers, and capture opponents' followers, holding them in prison. Later, the players may arrange a prisoner exchange, to the advantage of the players involved. Also, a player may arrange to pay ransom for the return of an imprisoned follower. Fans of Carcassonne will enjoy the new tactical opportunities offered by this expansion.The expansion also includes a special tower for storing the landscape tiles, giving players a convenient way to draw tiles during the game.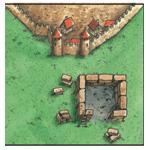 We'll definitely get this one in for review.
You also might want to check out these related stories:

Read More in: Board Games | Gaming News
Share this Article with others:
Related Articles:
Came straight to this page? Visit Critical Gamers for all the latest news.
Posted by Critical Gamers Staff at April 4, 2006 10:24 AM