Board Game Help for those Estranged by Risk Addicts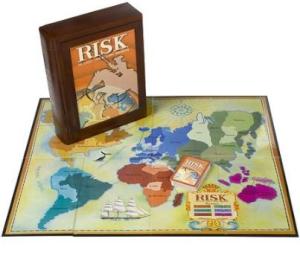 We received a letter of help from a friend, who we'll anonymously name Beth. Beth is soon heading on ski weekend getaway with her husband and his school friends, and every year the gentlemen carve up the world over a table of of Risk while the women sit there and roll their eyes.
She recently asked if we had any game suggestions that both Risk addicts and non Risk advocates would enjoy. We came up with the following five games that hopefully span the interests of warmonger and their spouses, or at least are should serve as a stepping stone game toward a halfway point.
Now we know that Risk players can seriously hardcore in their quest for world domination, especially if they have a ceremonial tradition of a game every year. So with our selection we wanted to ensure that our suggested games were quick to learn, and either Risk-esque, or have a conquest theme involved. Game selections which are furthest removed from Risk's themes will be quick to play, letting Risk fanatics slap down a board and get their fix afterwards.
Our hope - once these obsessed players learn that there are some other great games out there, then maybe they'll open up other non Risk-like alternative. But, remember: baby steps.
#5 History of the World
[Amazon, Funagain]
This is actually quite Risk-like and a safe bet that risk players will enjoy it. Players start in the ancient history and control one of the worlds major civilizations. As the game progresses the players take control of more and more modern civilizations, gaining ground in other parts of the world, and revisiting areas of older civializations to either support their territories or conquer an opponents. Over time their influence of the world grows, and grows, but never steamrolls like Risk.
One drawback of this title is that the games last a while - a few hours - which is why it lands at #5 on our list. Those folks who shy away from risk might find this game a bit too much to swallow, too. However, die hard Risk fans may be more welcoming this as an alternative than some of the other further-removed suggestions, while the civilization themes should be interesting to those not so much into prolonged ebb and flow battle marches of Risk.
#4 A Game of Thrones
[Funagain]
Here's a nice board game adaptation of on the George R. R. Martin fantasy novel series. If your Risk players are fans of this this best selling book franchise, then they should be all-over giving this board game a shot.
Players strive to further their kingdom through conquest and control of a few territories, but events and the personalities from the various factions add more narrative to the game than the faceless risk pieces. While this remains a game of conquest, players do more wheeling and dealing with each other, brining new social elements into the gameplay.
#3 Age of Empires 3 The Board Game
[Amazon, Fuangain]
Critical Gamers Story
And so we being to move away from the battle gameplay or Risk, but still keep the gaming conquest oriented.. Age of Empires would be #1 on our list, but the next two games have simpler rules which could make them a bit more approachable for non board game players and Risk players alike.
Age strips away a lot of the military minded themes and instead focuses on the European colonization of the new world (sure, in reality it was by force but the game doesn't focus on those gritty aspects). Players take control of a select collection of European super powers in the 16th century who found colonies to send resource back to Europe. The European countries never actually fight one another, instead the player's home city grows as more resources are returned, unlocking new options such as more shipments back to America, or new colonial buildings to secure the frontier. Conflict occurs when the colonies start to pursue the same resources, but the fighting is tailored down compared to the death marches of Risk. This is a very, very good game, winning many awards including GAMES Magazine's Best Advanced Strategy Game Runner-Up 2008, and International Gamers Awards Best Strategy Game Nominee 2007.
#2 Carcassonne
[Amazon, Funagain]
Critical Gamers Review
Here's a different kind of land grab that's a classic in our eyes, and probably one of our favorite games to date. Carcassonne is a tile based board game where you construct landscape of feudal towns and countryside as you play. After drawing a tile from a random stack and putting it into place, a player has to an option to place a settler on the tile. These settlers become farmers, knight , robbers -- all depending on where they were placed on the tile and the adjacent topography of the map. That's it; there are no dice, no complex rules, not combat mechanics.
Risk players may like the conquest ideology of owning territory, while others will like the more indirect conflict and constructive gameplay of building the map as you play. Best yet, the game can be learned in 5 minutes, and games last only about 30 minutes, and like Othello the game takes a life time to master.
#1 Condottiere
[Amazon, Funagain]
Critical Gamers Story
A fantastic title that mixes a card game with themes of conquest. The gameplay is all a relatively simple card game thats easy to learn, and a blast to play. Winning a round grants you territory in a campaign for the conquest of Italy (during the Renaissance)
The map may be small (about 3/4 the size of a piece of paper) and but the gameplay makes up for it. The main focus is knowing when to play your cards, and knowing when not to commit your army (cards) to the field in a fruitless battle of inconsequential territory. There are even wild cards to boot, so you can show strong only to back out of the army, or you can appear weak only to ambush an enemy and make them waste gobs of cards. This is huge since the rounds are linked -- a player who exhausts their resources in one fight might find themselves weaker in subsequent battles until they can draw more cards.
There's a lot of game here for strategic thinkers, but the rules are simple and the game is fast, and players are involved from the beginning to end. Turns are also as quick as playing a card, so things keep moving along nicely.
Those who want to skip the war theme altogether should try out Carcassonne. But for Condottiere - of of its elements fit together to make this the best choice for a comprise between Risk players, and their estranged friends.
Read More in: Board Games
Share this Article with others:
Related Articles:
Came straight to this page? Visit Critical Gamers for all the latest news.
Posted by Critical Gamers Staff at March 13, 2008 5:18 PM