Battlore Designers Answer "Commonly Asked Questions"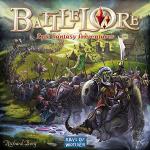 The designers of the upcoming Battlelore [Funagain] board game war system have heard enough. Apparently they've been pestered by the gaming masses who are asking the same old questions: What's Up with the Special Preorder Figures, and what should we expect in the form of future Expansions to the Battlelore base system?. Well they've released some detailed responses in an attempt to appease the hungry mob.
We're a bit shocked to hear how much this game is going to take off by Spring. Sure, the box ships with 10 scenarios, but then check this out:
"Starting in March 2007, we hope to release 2-3 mini-expansions every month. These expansions will come in the form of easily recognizable blisters (similar to those used for the promotional miniatures), which will be available through our regular distribution channels as well as our web site.

Pricing will typically be in the $7.00 to $12.00 range, with some items lower, and a few higher.

The objective of these expansions is NOT to start an arm's race toward the most powerful Creatures, Units or Armies. While these expansions will come in blister packaging, they will not all be plastic figures, units or battalions.

Instead, our goal is to both surprise you and delight you, by building upon some of the many foundations introduced in the game's core rulebook." -From "Some Commonly Asked Questions"
Wow, two to three per month? That's some extensive expansioning right there. And that's on top of the user-created scenarios that players can share with the online scenario editor. There's going to be a plethora of war gaming to be done this Spring.
Battlelore is set to ship ths month, and is available to preorder from Funagain Games and from the game's official website.
Read More in: Board Games | Gaming News
Share this Article with others:
Related Articles:
Came straight to this page? Visit Critical Gamers for all the latest news.
Posted by Critical Gamers Staff at November 20, 2006 4:10 PM