BattleLore Epic Adventure Rules Released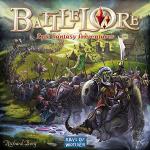 If your group of friends is a ravenous bunch of BattleLore [Amazon,Funagain] hooligans, then you have some good days ahead of you. Days of Wonder has released the rules to BattleLore Epic Battles, where up to six players can combine their BattleLore sets to form a gigundo map and compete in battles of massive scale.
With football season over we've already set aside a Sunday afternoon to have a battle royal, with the losers buying beers, and wings, and nachos *drool* And as always, underage drinking is a no no -- kids should sip Juicy Juicy margaritas, no salt.
Here's the official word:
The Company Line: "The Epic BattleLore expansion offers experienced players the opportunity to conduct battles on a grand scale by combining multiple board maps into a single, over-sized battlefield.

Epic Adventures' larger format allows up to six players to join in and experience the fun of mass combat on a grand scale.

All you will need to play is this downloadable game supplement, a second board map and a few coins or markers (to serve as additional Lore tokens).

To download Epic BattleLore rules, you need to be a registered player of BattleLore."
If you're looking through your gamer stack and finding BattleLore missing, then you're in for a treat. Check out our previous coverage of the fantasy/historic wargame system by clicking here.
Read More in: Board Games
Share this Article with others:
Related Articles:
Came straight to this page? Visit Critical Gamers for all the latest news.
Posted by Critical Gamers Staff at March 13, 2007 12:15 PM