Battlestar Galactica Board Game FAQ Update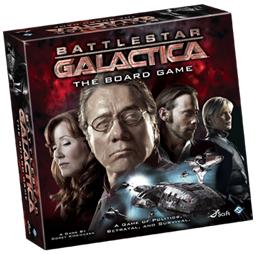 Thought we'd send a shout out on Caprica day that the FAQ and Rules Errata for the Battlestar Galactica board game have been updated on the Fantasy Flight Games website.
The new additions to the FAQ have the standard set of new questions answered, but most of the content comes in an on a whole new section dealing with the secrecy rules of the game (more on that below). Here are the standard QA updates:
---

Q: What happens to a viper if the piloting character reveals himself as a Cylon?
A: The viper is returned to the Reserves.

Q: Can multiple Centurion tokens be on the same space of the Boarding Party track?
A: Yes. They do not push each other, or prevent other tokens from being placed on their space.

Q: Can a player use the "Command" location to launch a viper and then move or attack with the same viper?
A: Yes. There is no limit to the number of times an unmanned viper may be activated per turn.

Q: What happens to the Sympathizer card once it is revealed?
A: It remains in play, but is unaffected by abilities that normally affect Loyalty cards. For example, if an opponent is able to look at one of his random Loyalty cards, the Sympathizer card is excluded.

---
As we mentioned, the FAQ also has a section of Zen guidance tailored for groups who've encountered a bit of trouble agreeing to games oh-so-important rules of secrecy. If you find yourself wondering just how many adjectives players may use to describe the strength of cards they've played in crisis checks, or how to deal with leading comments from players peeking at the Destination deck or Loyalty cards, then this section should help keep your BS:G experience fair and even.
The entire section is too big for us to describe here, so we'll just show you the gist via the introduction:
---

Secrecy Clarifications

This section of the FAQ further clarifies the Secrecy rules found in the rulebook. It covers general secrecy as well as specific rules that apply to unique situations and components. This section is only intended for play groups who have trouble agreeing on what should and should not be allowed under the current Secrecy rules."

---
Check the entire Battlestar Galactica FAQ and Rules Errata for all the FAQ and Secrecy entries. It's a great guide to have with you throughout your play session.
Read More in: Board Games | Gaming News
Share this Article with others:
Related Articles:
Came straight to this page? Visit Critical Gamers for all the latest news.
Posted by Critical Gamers Staff at April 21, 2009 10:14 PM