Battlestar Galactica Board Game Preview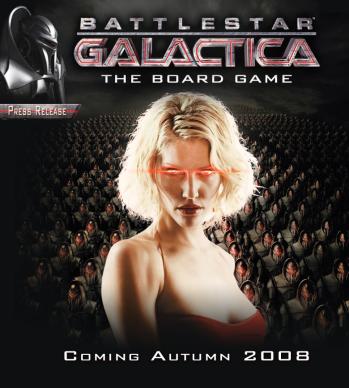 Publisher Fantasy Flight Games has begun its prerelease blitz of the Battlestar Galactica Board Game [Funagain] slated for release in early November. As you may recall, the game has players sit down as compatriots trying to save each other's butts in life and death struggle for survival?. Is that redundant? Probably - wait - well yes it is.
Things aren't quite so straightforward in the lovely, elegant, simplistic, savage, stinky, recycled -air int this mother f'er of an everlasting convoy that won't freaking end as it probes its way through the dark reaches of space. Apparently Earth is way over there - like four regular seasons away - and those pesky Cylons are a constant threat looming on the periphery the whole voyage. Not only do they periodically pounce upon your rag take fleet with their shoomlike nuke-carrying basetars, but they've also planted a decoy in your human ranks of players.
Yep - thats right - your best friend could be a Cylon. And you thought he was just after your sister. Nope, turns out that he wants you all dead, and has designs on blowing the Galactica and its hangers on to kingdom come.
Mechanically the secret Cylon player is determined randomly at the beginning of the game, so don't go for your baseball bat or golf clubs just yet. His or her job is to ensure that the rest of the players don't make it to Earth, either via subterfuge and physical or political/social sabotage. And if the paranoia weren't already as thick as a the fishbowl smoke in a volkswagen bus cursing the California desert, then here's even more for you to take in: halfway through the game another player could - or could not - become a secretly activated cylon. Ok.... exhale.
Now, the first of of what will surely be a series of Fantasy Flight Games preview articles goes over the character skills, which are randomly dealt from a character deck each session.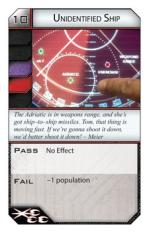 Considering the mass appeal of BStar among a desperate population of friends, we were hoping things would kept relatively simple in this Fantasy Flight release. But, of course not. Thanks to some ingenious tinkering in the Fantasy Flight labs, it appears that we have gobs of decks, and draw states, and ... stuff to keep track of. When will they learn that sometimes keeping things simple might equate to some fun? For instance:
---

"Each player is dealt a hand of skill cards at the start of his turn, based on his character. Take Kara "Starbuck" Thrace as an example. Starbuck is dealt 2 Tactics skill cards, 2 Piloting skill cards, and her choice of either 1 Leadership or 1 Engineering card. If another player gets Leadership cards already, Starbuck may choose to take 1 Engineering card, thus giving the crew a good cross-section of skill cards."

- Preview #1: Skills at Fantasy Flight Games

---
Woah. That was pretty complicated. Naptime. No no no, get your own carpet square.
But we have a feeling Fantasy Flight can still make this one a classic. If not , it's back to Shadows Over Camelot [Amazon, Funagain] for our cooperative board gaming goodness, and that ain't bad. In fact, gaming life is good.
Battlestar Galactica the Board Game is slated to ship in Novermber, and is now available to predorder from Funagain Games.

Read More in: Board Games | Gaming News
Share this Article with others:
Related Articles:
Came straight to this page? Visit Critical Gamers for all the latest news.
Posted by Critical Gamers Staff at October 9, 2008 11:05 PM