Battlestar Galactica Board Game Rules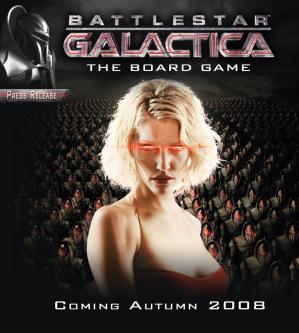 Publisher Fantasy Flight Games have released a pdf copy of the Battlestar Galactica Board Game [Funagain] that's slated to release this fall.
Similar to the hit Shadows Over Camelot, the Battlestar Galactica board game puts players in control of the cannon's tier-one characters as they struggle to survive on the run as the life of the last human colony . Each character has a suite of abilities that could come in handy in political situations, or in combat situations whenever a Cylon base star warps-in to hose everyone down with nukes. Certain characters will also need to position themselves to repair any and all damage done to Galactica to ensure its survival until the convoy finds Earth.
Although the players will be striving together for a common goal, things aren't always so warm and fuzzy in post apocalyptic space. At the start of the game one player is secretly made a Cylon agent, and must work to sabotage the player's goals without giving away his/her true identity. Then, later in the game a player controlling a human character may also find out he's a Cylon who has just be activated, too, which means you could have two double agents running around your ship. Paranoia will ensue, and trust will become a major factor in the game.
For more information checkout the official rules which can be found here [pdf].
Here are the game's official details:

---

"Battlestar Galactica: The Board Game is an exciting game of mistrust, intrigue, and the struggle for survival which places each player in the role of one of ten of their favorite characters from the show. Each playable character has their own abilities and weaknesses, and all must work together in order for humanity to have any hope of survival. However, one or more players in every game secretly is secretly a Cylon, and wants the humans to perish."

---
The Battlestar Galactica Board Game is slated to ship this November 2008, and is now available for preorder from Funagain Games.
Read More in: Board Games | Gaming News
Share this Article with others:
Related Articles:
Came straight to this page? Visit Critical Gamers for all the latest news.
Posted by Critical Gamers Staff at September 19, 2008 10:11 AM