Battlestar Galactica the Board Game Website Launches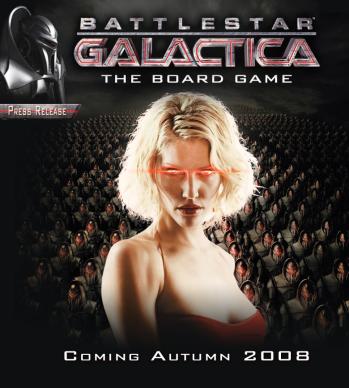 Fantasy Flight Games, the publisher of other cross media successes as the Starcraft, Lord of the Rings, and World of Warcraft franchises, has launched their website about this Fall's upcoming release of Battlestar Galactica the Board Game [Funagain]. Gauging from Fantasy Flight's pedigree, and the information posted on their website, we expect another solid installment for epic board gaming this fall.
Players will take on the roles of characters from the show, who crew the Battlestar Galactica which takes up a majority of the board. The players will need to venture to various parts of the ship made famous in the show, to put out internal cultural flair ups, scramble to Vipers to ward off Cylon attacks, and to put out real fires and fix areas of the ship that have become damaged. The goal is to keep the Battlestar and its rag tag fleet alive long enough to get to Kobol, and find the way to earth.
But fans of the show know that things are quite so cut and dry. The Cylons have invaded the human population, and you may find that your friend had been a Cylon agent for all along who's been secretly trying to sabotage the group's progress. And in an even more complicated twist, a player might start the game as a Human, but then become secretly 'activated' through events later in the game. How your group socially and mechanically deals with an increasing paranoid group characters will play heavily on the outcome of the game.
There's a first iteration of product literature to read through on the Official Website, which goes far behind the official details announced earlier this year. We suggest giving it a once over.
It seems as though Battlestar Galactica the Board Game might have all of the high quality elements we expect from Fantasy Flight Games, but with more streamlined and easier rules than other installments from the publisher. And thankfully, it should be cheaper, too, with an MSRP of $40.00 when it ships this October.
Here are the official details:
---

"Battlestar Galactica: The Board Game is an exciting game of mistrust, intrigue, and the struggle for survival which places each player in the role of one of ten of their favorite characters from the show. Each playable character has their own abilities and weaknesses, and all must work together in order for humanity to have any hope of survival. However, one or more players in every game secretly is secretly a Cylon, and wants the humans to perish.

For 3-6 players ages 10 and up, playable in 2-3 hours."

---
Read More in: Board Games | Gaming News
Share this Article with others:
Related Articles:
Came straight to this page? Visit Critical Gamers for all the latest news.
Posted by Critical Gamers Staff at August 8, 2008 3:38 PM