Battlestar Galactica Board Game - First Details!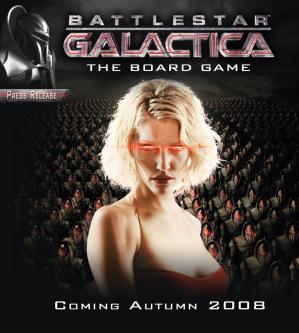 Two days in a row we've hard some great game announcements surrounding two of our favorite franchises. Yesterday it was Upper Deck's announcement of the upcoming World of Warcraft Minis game, and today we're treated to some great news from Fantasy Flight Games: the announcement of a Battlestar Galactica board game for the Fall of 2008.
There aren't many details in the the press release, but from the sounds of it the BS:G board game will contain some similar refined cooperative gameplay themes and elements from Days of Wonder's Shadows Over Camelot. In Battlestar players will work cooperatively to ensure that safety of the Colonial fleet, as it tries to survive both inner political turmoil and the physical destruction by the Cylon fleets hunting it down. And in true BS:G fashion, one of your friends is secretly a cylon agent trying to tear things apart from the inside out.
From the official press release:
""Battlestar Galactica's rich storylines and compelling characters provide the perfect playground for a totally immersive gaming experience," said Adam Stotsky, Executive Vice President of Global Brand Strategy and Market Development for the SCI FI Channel. Battlestar Galactica: The Board Game will be a semi-cooperative game, in which players work together to solve problems confronting the fleet, ranging from mechanical to political issues, all the while remaining vigilant for Cylon attacks. However, suspicion clouds the ship and its crew, as one or more players may indeed be a Cylon!
We'll definitely keep you posted on this one as further information is released. Looks like this fall is already shaping up to be one of the better fall gaming seasons in years.
Read More in: Board Games
Share this Article with others:
Related Articles:
Came straight to this page? Visit Critical Gamers for all the latest news.
Posted by Critical Gamers Staff at February 8, 2008 2:50 PM