Battles of Westeros Board Game Unit and Leader Previews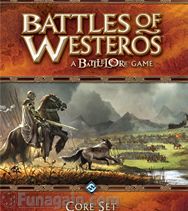 The previews for the upcoming Song of Ice and Fire war game system Battles of Westeros (Game of Thrones et al) continue to march on this month. If you missed the previous entries then also checkout Part One and Part Two.
First up is a look of the various troop types in the base set in "The Right Tool For The Job". As a reminder the first boxed set of the franchise focuses on the houses of Lannister and Stark, and both of those will have the standard complement of infantry, cavalry and ranged units. However, life isn't completely balanced. Aside from mixing and matching various scenario and map setups to keep things interesting on repeat plays, the two factions will have their own unique types of units, too. House Lannister, with their bountiful riches, will have heavy infantry. Fitted with some of the best armor money can buy these special troops will provide a stringy defense making them harder to hit. Meanwhile the Starks get Kennlmasters who release their ravenous attack dogs at range to harass enemy troops. These dog attacks can effectively shoot through friendly units (dogs running through friendly troop formations). However, these dog attacks are a bit more chaotic, and effective results may vary.
Second up is is a detailed look on how the various personalities from the books will effect the game. "The Lives of Many Lay in the Hands of a Few" runs down the different abilities and passive buffs these field commanders sport. The two examples given are the leaders of the two waring houses: Rob Stark and Jamie Lannister. Interestingly it seems that scenarios will involve numerous commanders, and each commander will also sport his or her own deck of 5 cards. Mixing and matching these cards during the battle is a gameplay element that FFG is currently focusing on.
We'll keep you apprised of more information about the Battles of Westeros in the coming weeks, including whenever a concrete release date is announced.

Read More in: Board Games | Gaming News
Share this Article with others:
Related Articles:
Came straight to this page? Visit Critical Gamers for all the latest news.
Posted by Critical Gamers Staff at May 11, 2010 4:46 PM